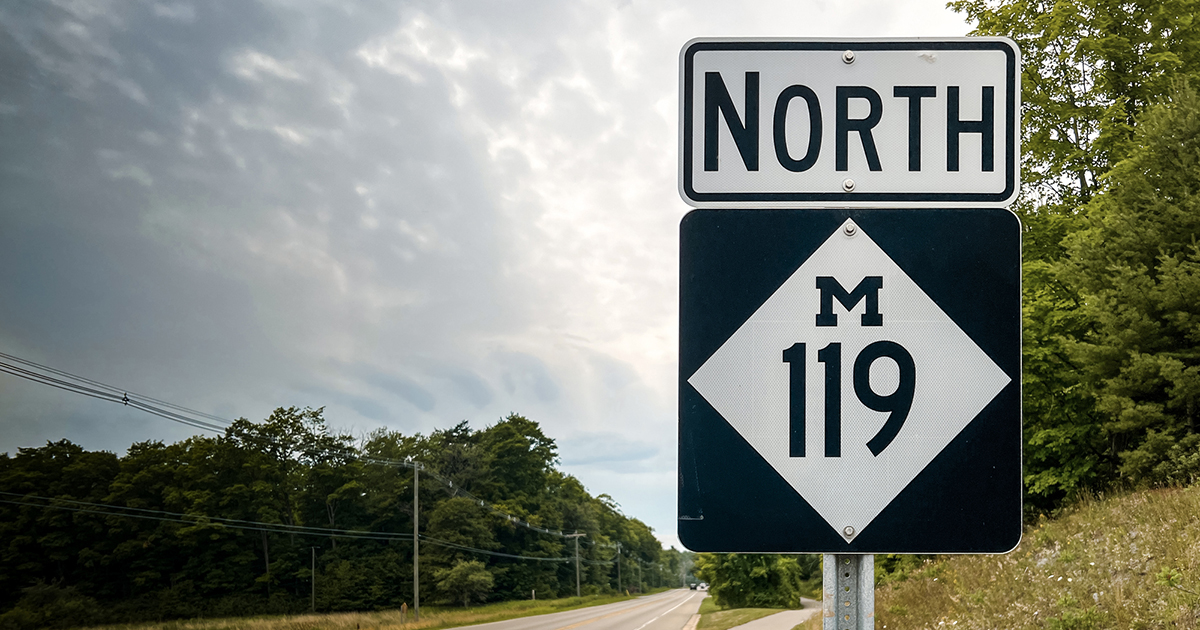 Can Michigan lead the Midwest to a low-carbon future?
Local and statewide initiatives are paving the way with new approaches
In April 2022, Michigan announced the MI Healthy Climate Plan, a roadmap to achieve economy-wide carbon neutrality by 2050. The plan builds off the leadership of cities and tribal communities as well as the state's energy providers, which includes a blend of investor-owned utilities, municipal utilities, and utility cooperatives.
To fulfill the Healthy Climate Plan, partners all over Michigan will need to work together to advance clean energy while meeting the diverse needs of residents and communities. Slipstream's partners are leading the way to carry out initiatives that meet the moment and suggest a path for other states in the Midwest to achieve their own energy goals.
Building momentum for air-source heat pumps
Through our work for the Michigan Electric Cooperative Association (MECA), Slipstream surveyed the landscape of heat pumps in Michigan for over a decade. In that time we've conducted market characterization research, case studies, and pilots for air-source heat pumps (ASHPs) and other technologies such as heat pump water heaters, as well as programs ranging from energy assessments to electrification incentives.
Within these programs, the demand for heat pumps has seen modest growth. But in the last few years, the demand for ASHPs has risen significantly.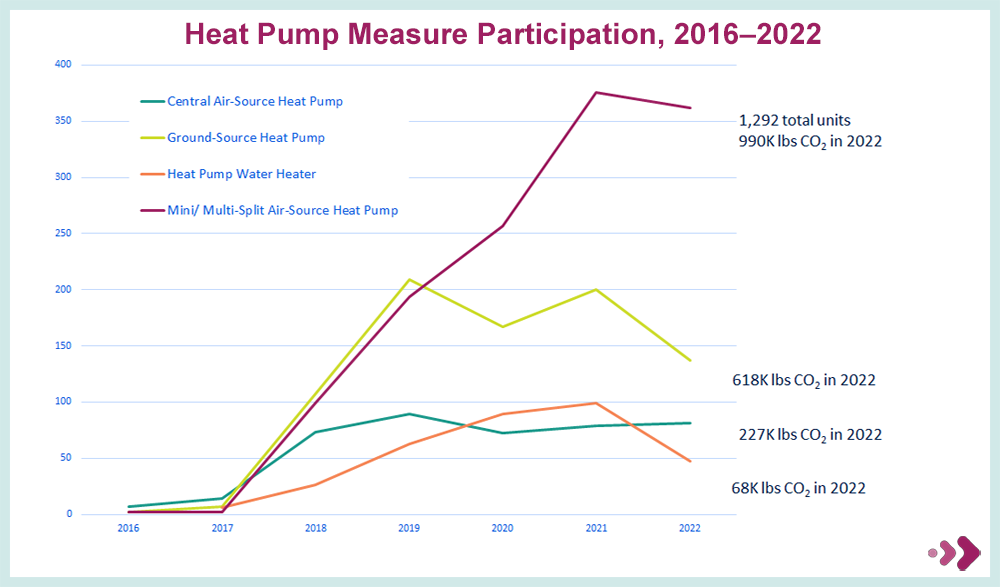 Participation in Michigan co-ops' measures for air-source heat pumps has spiked in recent years.
In 2021, Michigan passed legislation that sunset regulations for municipal utilities and cooperatives, but Slipstream continued our relationship with several co-ops and Lansing Board of Water and Light. Though they were no longer required to run efficiency programs, many co-ops and municipalities stayed the course with beneficial electrification measures like heat pumps.
Michigan utilities unite to promote heat pump training and education
The growing momentum for heat pumps has culminated in the launch of a statewide Michigan Heat Pump Collaborative, which unites four investor-owned utilities behind a shared objective: remove the barriers to widespread adoption of ASHPs. Slipstream assists this goal through education and outreach, deeper engagement with stakeholders, and contractor training.
As we've seen in market transformation efforts in Wisconsin, a critical mass of well-informed, well-trained contractors is key to build momentum for new HVAC technologies. These critical market actors need to understand the evolving heat pump market, the technologies that their customers are hearing about, and the incentive funding offered by IRA and some utilities. Most importantly, they must know how these new systems work, how to install them correctly, and how to build their business in the transforming market. With a deepened knowledge of this landscape, they gain market share and trust with consumers who can then make an informed purchasing decision.
Knowledgeable contractors hold a unique role in advancing new technologies.
The Collaborative's next step is enhancing training to equip contractors with more information and resources to share with customers. Slipstream has also begun pilots to gather real-world data on induction cooktops and 120-volt plug-in water heaters – a technology that has the potential to quickly scale the electrification of residential water heating, especially for rentals and multifamily units.
Cutting carbon by cutting grass: The growing demand for electric alternatives
Electrification measures are gaining traction across the state. Some cooperatives are off to a great start. With Slipstream's support, four co-ops – Great Lakes Energy, Cloverland Electric Cooperative, HomeWorks, and PIE&G – began offering rebates in 2022 for members willing to upgrade to electric versions of residential appliances and equipment. (Several more utilities within the Energy Innovations Collaborative support a similar program in the Upper Peninsula, and progressive municipalities around the state have begun to offer electric lawn equipment and other electrification rebates.)
These rebates show a clear demand for electric alternatives among the co-ops' rural member base, and the programs have made a direct impact on the co-ops' shift to metrics that track success through carbon savings rather than kWh.
Electrification Measures Available:

Appliance/Equipment

Rebates Claimed
(through June 2023)

Carbon Savings
(lbs)

Central Heat Pump

136

340,413

Minisplit/Ductless Heat Pump

499

1,434,078

Ground-Source Heat Pump

229

1,005,792

Push Mower

53

11,958

Riding Mower

4

2,072

Leaf Blower

30

9,150

Electric Vehicle

55

351,450

Heat Pump Water Heater

83

125,096

Induction Stove/Range

62

1,423
Even within a small member base, the rebate for electric lawn mowers alone reduced CO2 emissions by more than 14,000 pounds. Several other rebates – from heat pump clothes dryers to electric leaf blowers – have encouraged members to reduce their carbon footprint without having to change any of their habits.
What's behind the demand for electric equipment?
These programs are unique in that they offer rebates on several items we rarely see in energy efficiency programs. But they also offer some insights into what sort of equipment arouses consumers' interest.
One takeaway might be that people are willing to electrify what they know. Electric lawn mowers are easy to understand and use – and as popular outlets such as Consumer Reports have pointed out, there are additional benefits to electric lawn equipment, including less noise and the convenient ability to use the same battery for multiple tools.
People are willing to electrify what they know.
Induction cooking is a little harder to understand for some users, especially for people used to cooking with gas, but it's an easy change for members currently using electric resistance stoves. Slipstream is currently conducting a pilot sponsored by two Michigan IOUs, Upper Peninsula Power Company (UPPCO) and Indiana Michigan Power (I&M), to assess the energy saving opportunities, health impacts, and customer satisfaction from switching to induction cooking.
In many cases, members seem willing to prepare for future upgrades. Dozens of members took advantage of the rebate to upgrade their electrical panels to prepare for the increased load of an all-electric home. Others added EV charging stations to their seasonal homes even if their account wasn't eligible for an electric vehicle rebate.
Cooperatives in rural areas of Michigan offer incentives at a level that few utilities around the country have matched – and members have responded with a clear message that they are willing to electrify their lifestyles given the opportunity.
Here in the Midwest, an old adage remains true: If you offer it, they will come.
What's next: Extending benefits to more communities – and more states
As we move forward, cities and utilities continue to sort out the potential impacts of legislation such as the Inflation Reduction Act. In the meantime, Slipstream's work in Michigan will soon expand to benefit more communities.
The Michigan Public Service Commission recently awarded $50 million in state funds for low-carbon energy infrastructure enhancement and development (EIED) projects across the state. That includes a project in which Slipstream will work with three of the 12 federally recognized Native Nations in Michigan to create low-carbon energy plans that meet the unique needs of their respective communities. Low-carbon energy plans are necessary to understand how much energy they currently use, what types of measures might reduce their energy costs, and what steps they can take to obtain additional funding to achieve their energy goals through infrastructure and technology upgrades.
Slipstream will also work on an additional MPSC grant with several partners, led by 5 Lakes Energy, to expand the capacity of local governments to incorporate the needs of local stakeholders into low-carbon infrastructure development.
Whether advancing ASHPs or rolling out new rebates, Michigan utilities and co-ops are set to benefit from increased energy savings. For communities that have historically received scant attention from statewide energy programs, the momentum in Michigan is a sign that new approaches to decarbonization and energy waste reduction have merit.
For several years, states and utilities have relied on lighting programs as an easy, low-cost way to claim energy savings. However, for the MI Healthy Climate Plan to meet its goals, stakeholder groups need to think beyond lighting measures and find new paths to reduce energy waste and lower carbon emissions. This means looking to new technologies and initiatives that have multiple benefits to people's lives, including better indoor air quality, lower cost of ownership, and greater reliability.
Using the incentives provided by the IRA and energy provider incentives will help move the market forward. As we've seen from our partners in Michigan, there is already momentum toward low-carbon measures throughout the state.
And where Michigan goes, so goes the Midwest.