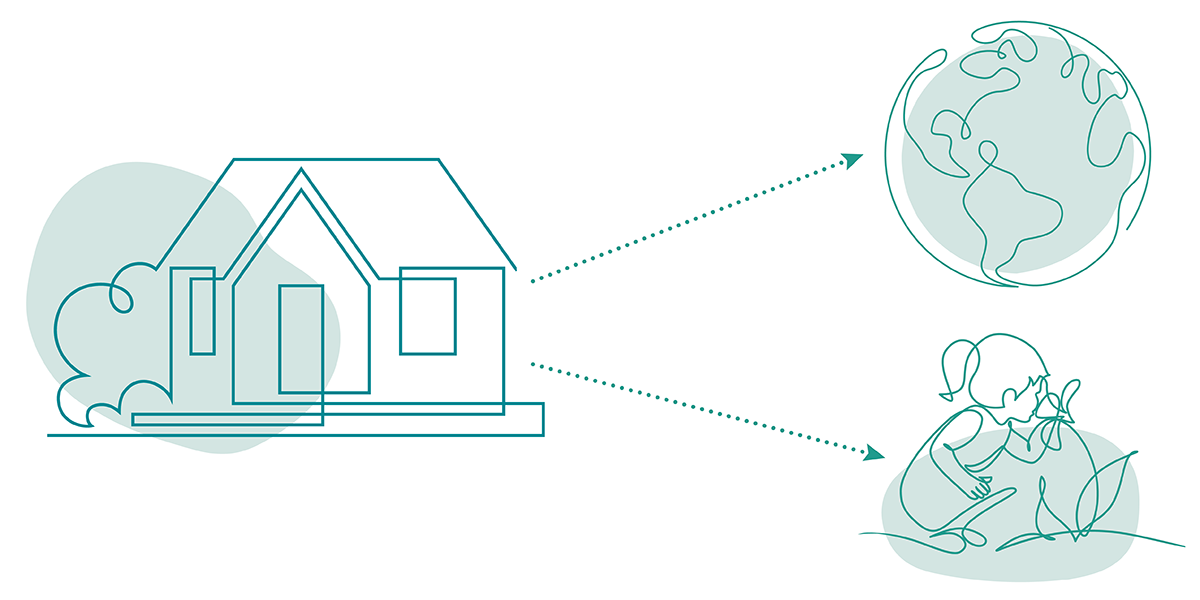 Health and home: The underrated benefit of weatherization services
Weatherization has many benefits beyond energy efficiency. The simple act of improving homes can make communities more resilient and benefit individuals in surprising ways. Weatherization and energy efficiency (EE) services don't just make people's homes better—they also improve people's lives.
Slipstream has explored opportunities to leverage these programs not only to meet people's energy needs, but to meet their health needs as well. If we can improve how people connect to programs that improve their homes, we can make a positive impact on the health of our climate and our communities.
The health benefits of weatherization
We know that weatherization-related measures have beneficial non-energy impacts (NEIs) that affect health. Whether it's a whole-house retrofit for a utility program or work done through the federal Weatherization Assistance Program (WAP), improving a home has clear health benefits beyond energy savings.
Weatherization measures lead to several health benefits, including:
Reduced thermal stress (from both heat and cold)
Reduced asthma medical costs
Increased comfort
Reduced stress from lower utility bills
Remediation of toxic materials such as lead and mold
Better sleep
The literature is less clear about the specific benefits of individual measures. We can say with confidence that a package of weatherization measures leads to better health.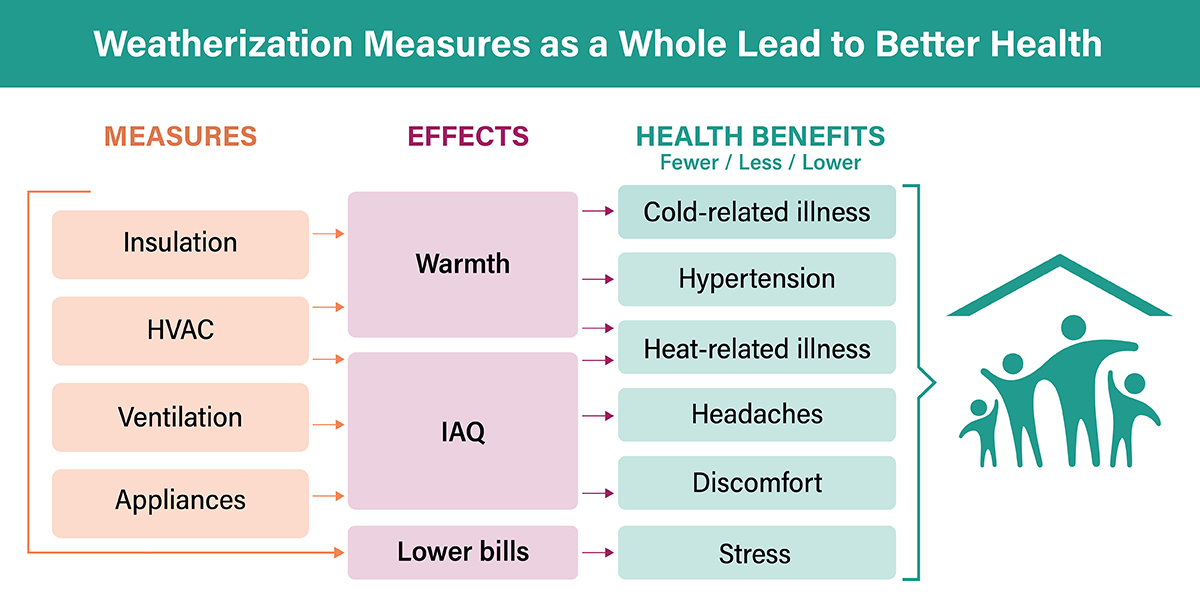 Improving peoples' health is fundamental to building resilient communities. Program managers can leverage weatherization and energy efficiency (EE) programs to deliver NEIs that make people healthier. Imagine the impact this might have on people who experience low incomes, housing insecurity, and other economic hardships. Better health can have a transformative effect.
Program managers can leverage weatherization and energy efficiency programs to deliver NEIs that make people healthier.
Program Pro Tip: Don't discount the value of health benefits in savings-to-investment ratio (SIR) and cost-effectiveness calculations. When the health and emissions benefits are considered along with the traditional energy benefits, the cost-effectiveness ratio for weatherization programs can double—or even triple.
Healthcare is an untapped partner for weatherization programs
In a study for CenterPoint Energy in Minnesota, Slipstream engaged directly with healthcare stakeholders serving customers with low incomes. We learned that healthcare stakeholders are currently exploring ways to improve patient health by looking at social determinants of health (SDoH), the conditions in people's environments that affect a variety of health risks and outcomes.
Two SDoH areas intersect with energy:
Weatherization services that improve the buildings where people live, learn, work, and play
Programs that lower energy bills to reduce energy burdens and improve economic stability
The healthcare sector is already looking at the ways energy intersects with SDoH, even if utilities and regulators are not. Weatherization and EE programs should take health co-benefits into account to make an even bigger impact on the lives of their customers.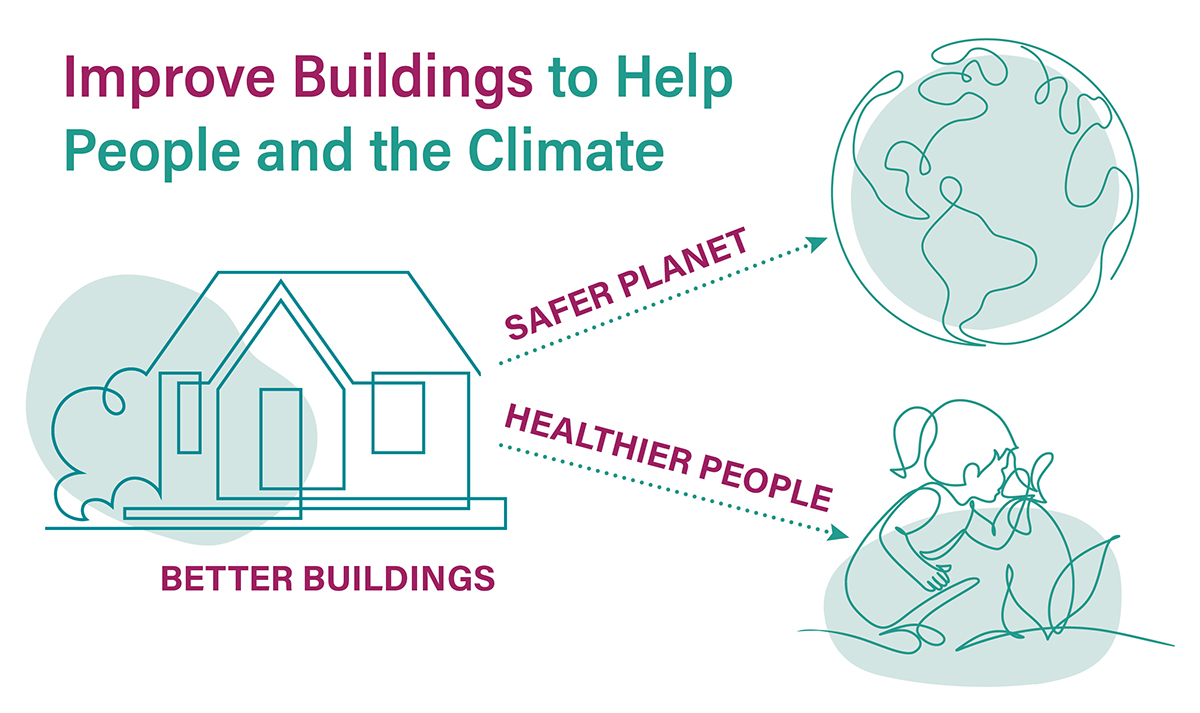 Why isn't health already a factor in weatherization programs?
Both healthcare stakeholders and the public lack a general awareness of weatherization/EE measures and the NEIs that improve the health of patients.
Healthcare providers don't know about programs
Some providers might ask patients about their ability to pay their bills—a factor that can contribute to stress and all its deteriorative effects. That doesn't mean they know to focus on utility bills, however.
Many providers are aware of programs to assist with heating and cooling costs—such as the Energy Assistance Program (EAP)—and they often refer patients to those services. But few are as familiar with weatherization or utility energy efficiency programs that could both help with bills and lead to better checkups down the road.
Program managers can find value in engaging with healthcare professionals and informing their frontline staff—especially social workers and community health workers—about your program offerings so that they can direct people to your services.
Someone needs to connect the dots for customers
Sometimes the best way to get help with a utility bill is to call the utility. The utility knows all the programs and services available to help customers. But many customers find seeking help from the institution that's billing them counterintuitive. To help patients pay bills, healthcare workers could help patients call their utility and get access to weatherization and EE programs.
Utilities can make sure providers know the right numbers to call to connect patients with weatherization and bill payment services.
Pre-weatherization services can form a bridge to health benefits
Many homes are in such disrepair that they aren't even eligible for weatherization. Some utilities and municipalities are working to address program deferrals by providing pre-weatherization services such as new roofs and mold remediation. This would enable more homes to receive weatherization services, which would empower more people to enjoy the health benefits as well.
Weatherization and EE programs should take health co-benefits into account to make an even bigger impact on the lives of their customers.
How Slipstream can help
We're happy to help connect program managers with healthcare stakeholders to integrate health and energy services. We've also quantified the health benefits of weatherization-type programs for several states and utilities. We can help program managers better understand the ways NEIs such as health fit into your climate and equity goals.
Contact Shannon Stendel to start a conversation.
Other Resources
Read our literature review for Oak Ridge National Labs for more on the health benefits of weatherization.
Watch Shannon Stendel's presentation at the 2021 National Home Performance Virtual Conference for insights on how to incorporate NEIs into the cost-effectiveness of weatherization programs.
Don't forget about new construction! Read about our Tierra Linda study, which shows how cost-effective standards such as PHIUS can lead to better, more resilient affordable housing.