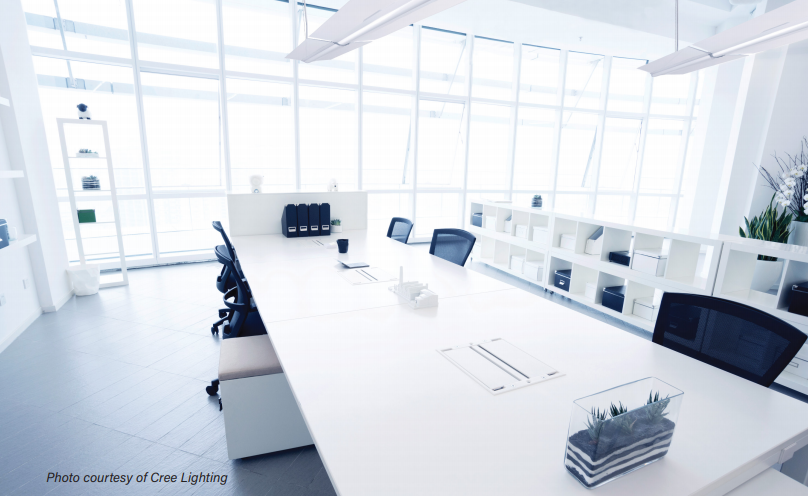 Lighting, HVAC, and plug load integration
September 1, 2021
Slipstream's solutions for the next step of energy efficiency
Slipstream partnered with the Minnesota Department of Transportation building and Jones Hall at the University of Minnesota to integrate their lighting, plug loads, and HVAC system controls, and earned recognition at the Annual Illuminating Engineering Society conference. Check out our pilot study details.
At the Minnesota Department of Transportation building, our building system and lighting integration reduced the building's plug load energy use by 71% and the HVAC energy use by 82%, and we provided Jones Hall at the University of Minnesota a 46% reduction of HVAC energy use. We achieved these numbers through holistic building integration, wherein we helped the HVAC, plug load, and lighting systems communicate through shared data—emerging technology that is not yet widely used.
Most fluorescent lighting in commercial buildings has already been replaced by LED lighting, which produced significant savings and increased energy efficiency. However, Slipstream's goal on this pilot was to explore the "next step" of energy efficiency—to take us beyond that status quo and achieve climate solutions through optimization.
Most of these systems likewise use several energy savings measures, such as daylight harvesting and occupancy control. Typically, the light fixtures are separate from the controls for these measures, though, so they cannot control individual fixtures. Our pilot used LCCCs (luminaire level lighting controls) which integrates the control directly into each fixture allowing for the most possible energy optimization.
Because sensors are embedded in each light fixture, we could be aggressive with our regulation. For example, a light fixture closest to a window can be dimmed almost entirely when the daylight is bright, and lights further from windows are still dimmed, but to a lesser extent, to allow us to use the least possible energy to achieve our lighting needs and produce more energy savings.
These NLC (network light control) fixtures have intelligence built in, and they use their data to best optimize lighting energy usage. Our work on this pilot was most innovative not just because we optimized lighting on a granular level, but because we shared this data to optimize plug loads and the building automation system that controls the HVAC.
The additional cost of this integration is small, but the saving potential is large. Only a handful of pilot projects are focusing on holistic system integration, and the ability to do so is a new, untapped area of energy efficient upgrades. Slipstream's two partnerships are being recognized for this innovation, which has an immense possibility to save money and increase energy efficiency.
The biggest takeaway from this pilot is that we can use NLC fixture intelligence to save energy in other systems, and these pilots can and should be a model for future energy efficiency retrofits and new buildings moving forward. A holistic system works together to save money, increase energy efficiency, and find cost effective climate solutions for all. Learn more about our pilot study and download our implementation guide.
Congratulations again to our Integrated Controls study team, the Minnesota Department of Transportation, and the University of Minnesota for these important advances in system integration and newest advancements in energy efficiency.
Thank you to the Department of Energy for funding this pilot, our Xcel utility partner for providing participation incentives, and our manufacturer partners, Cree and Legrand. These projects would not have been possible without your support!