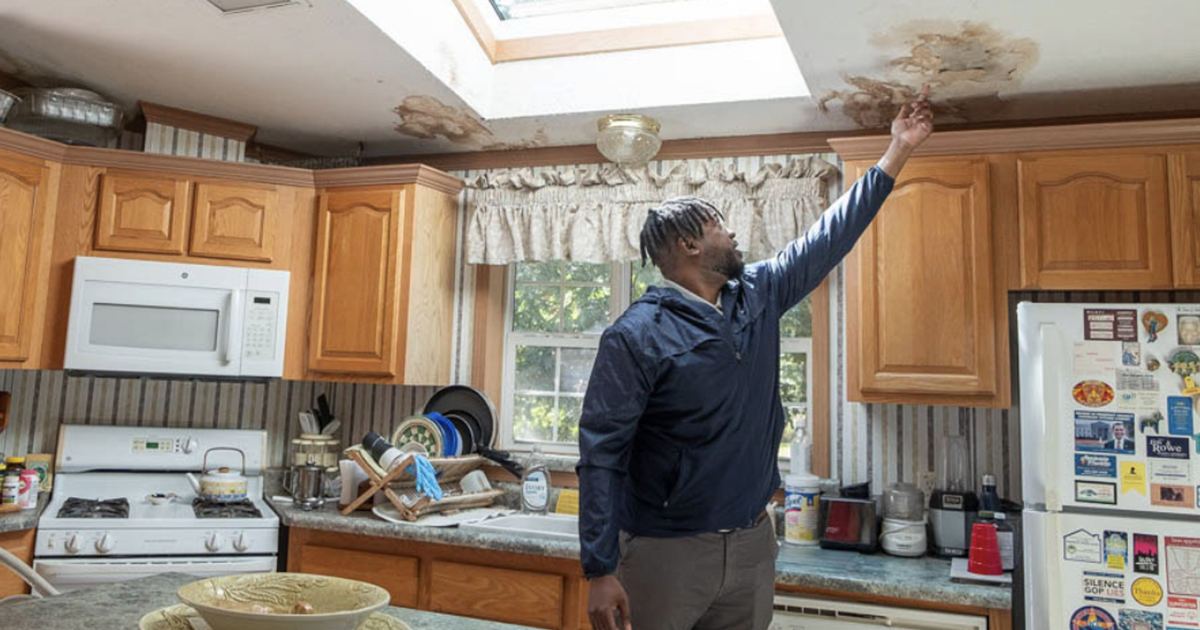 Electrification and decarbonization—Why not me?
Above: Project Manager Lee Ringo points out damage caused by a leaking skylight in Jumana Malik's home. The skylight was since replaced in PEEP 1.0. Photo credit: Sanford Shulwolf.
Pembroke Township is a rural community with just under 2,000 people about 60 miles outside of Chicago. The residents of Pembroke and Hopkins Park, historically Black farming communities, have heated their homes with wood and propane for decades.
Powerful outsiders and some local leaders lobbied heavily to have a gas pipeline installed as a last ditch effort to reduce economic burdens and for development purposes. In response, the Illinois legislature approved a Nicor Gas proposal for a natural gas pipeline to this community in summer of 2021.
The residents are passionate, knowledgeable, and willing to fight for what they believe in. Many residents are happy at the prospect of job creation that comes with the pipeline project, but others want to fight for renewable and clean energy which starts with electrification. The crux of the debate is whether the reliance on fossil fuels is concerning enough to ignore the positive impacts a pipeline could have on the economy—a question no one outside of the community can answer.
From poverty to power: Community driven electrification
The Community Development Corporation (CDC) of Pembroke and Hopkins Park, a community-led organization of residents dedicated to reclaiming and directing their land conservation and community development, has a vision: healthy families, and an affordable clean energy future for Pembroke. Having clean energy options should be available to all communities.
Residents want to understand and have electrification technologies installed in their homes. Contractors need to understand the benefits of electrification technologies, and get on board, before we can electrify anything—or you can forget "electrifying everything."
The CDC, RMI, and the Midwest Building Decarbonization Coalition approached Slipstream to support a demonstration project to show the benefits of home energy efficiency and electrification. The Pembroke-Hopkins Energy Efficiency Project (PEEP) paves the way to understanding what it really takes to weatherize and support community members who live below the poverty line on the pathway to electrification.
Resident participants were curious—and at first skeptical—that they would receive major home improvements for free. Folks from the CDC worked hard to find residents willing to participate and then gain their trust. Residents had many home visits throughout the project and trusted the project team to lock up their homes when they were done with the tasks for the day.
The CDC worked to engage residents throughout the process to keep them motivated, excited, and able to understand and sign off on the final scopes of work. In the end, the changes will impact their homes and lives—not ours.
The People Side of Electrification
Electrification isn't always cost effective—and until recently it has only been accessible for wealthier people and communities. We need to be real about how electrification can affect real people's energy burdens, especially in communities with low incomes or other systemic barriers to building wealth. We may not always know how it will impact people's energy usage, or how their usage will change as we add air conditioning with a heat pump when there wasn't otherwise any cooling.
More people are going to ask, "Why not me?" Why can't I get a heat pump? What happens to my energy burden if I get a heat pump? How will I heat my home if the electricity goes out?
We're energy nerds at Slipstream. We know quite a bit, and always want to learn more, about electrification technologies like heat pumps and heat pump water heaters. But the most important thing we learned in the PEEP project wasn't how to overcome technology implementation barriers or materials supply chain issues. The most important thing we learned was how important the people side of electrification really is—especially in communities that have historically been left out of conversations regarding their own energy futures.
The most important outcome of the PEEP project is being able to answer, "absolutely you," when the question, "why not me?" comes up.
Making an Impact
The team recently completed construction on four homes that received a combination of water mitigation, structural improvements, weatherization, and electrification measures. The cost savings results, and residents' testimonies speak for themselves. This winter those four residents will need fewer blankets at night. The project also paves the way for PEEP 2.0, which will continue to electrify Pembroke and Hopkins Park housing.
As passionate energy nerds work to roll-out electrification, we need to remember it isn't about technology. It's about the people and doing what we can to help them manage their energy burdens and improve their health. We can do more than drive heat pump adoption in the market. We can support communities as they transition from poverty to power.
Read more about the PEEP project on RMI's blog.