Slipstream's Madison HQ named a 2020 Dane County Climate Champion
The Dane County Office of Energy & Climate Change has named Slipstream as a 2020 Climate Champion. Slipstream joins the ranks of more than 25 fellow Climate Champions, a class of local businesses and government entities who have all taken concrete steps to address the shared challenge of climate change.

For our part, Slipstream is proud to hoist the belt of an Emerging Climate Champion in the Energy Use category, which recognizes buildings that consume less energy per square foot than their average peers.
At Slipstream, we believe that reducing energy use intensity (or EUI) in our homes and office buildings is one of the simplest ways we can improve energy efficiency and charge toward a carbonless future. Our researchers and engineers challenge each other to find new ways to reduce EUI in every project we take on—even in our own office.
When we built our Madison headquarters in 2008, the building adhered to LEED Gold standards. But the past decade-plus has seen the rapid evolution of energy technology and, with it, the opportunity to drive down energy use.
To see where we stood now, we turned to the best resource we know: our own expertise. Our EUI Analyzer tool—available for free for you to use—compiles data on actual building performance alongside industry references. The data showed that Slipstream's headquarters already uses 20% less energy than a typical office in our region.

Not bad. But we knew we could do better.
Marshaled by Principal Engineer Scott Schuetter, PE, LEED AP, Slipstream overhauled our building's energy efficiency to provide our staff with a workplace that reflects our company's mission.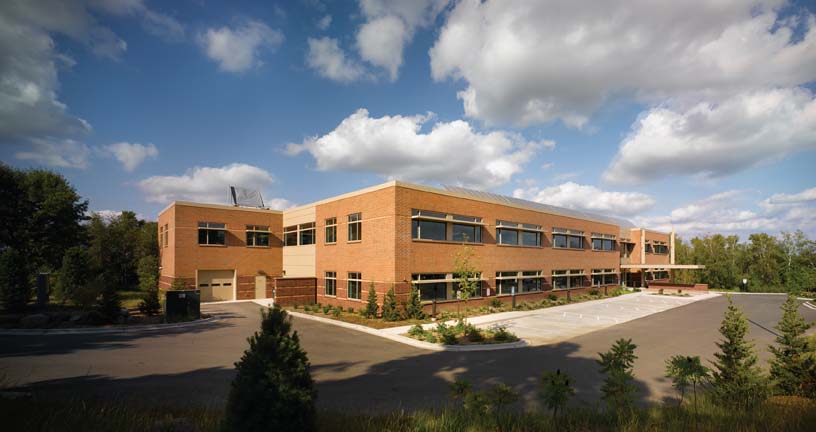 So far, we've used our vast knowledge base of energy research to make improvements throughout the office, such as:

• Smarter energy use: LED retrofits and integrated controls of our lighting and other systems
• Less waste: reduced excess ventilation with energy recovery ventilators.
• Solar panels to reduce our dependence on the grid
Our effort to reduce our headquarters' carbon footprint isn't just a means to apply our research to our own lives. It's also an opportunity to use our own building as a test bed for the latest energy efficient technology. Our future plans include the same things we recommend to our partners and clients—anything we can do to eventually work work within a fully grid-interactive efficient building.
Let Us Help You
Slipstream is honored to be named a 2020 Dane County Climate Champion, but we want to be a champion for businesses and commercial properties everywhere. Learn more about the ways Slipstream helps businesses meet their own energy goals, from developing custom solutions to financing our neighbors' projects through programs such as Wisconsin PACE.