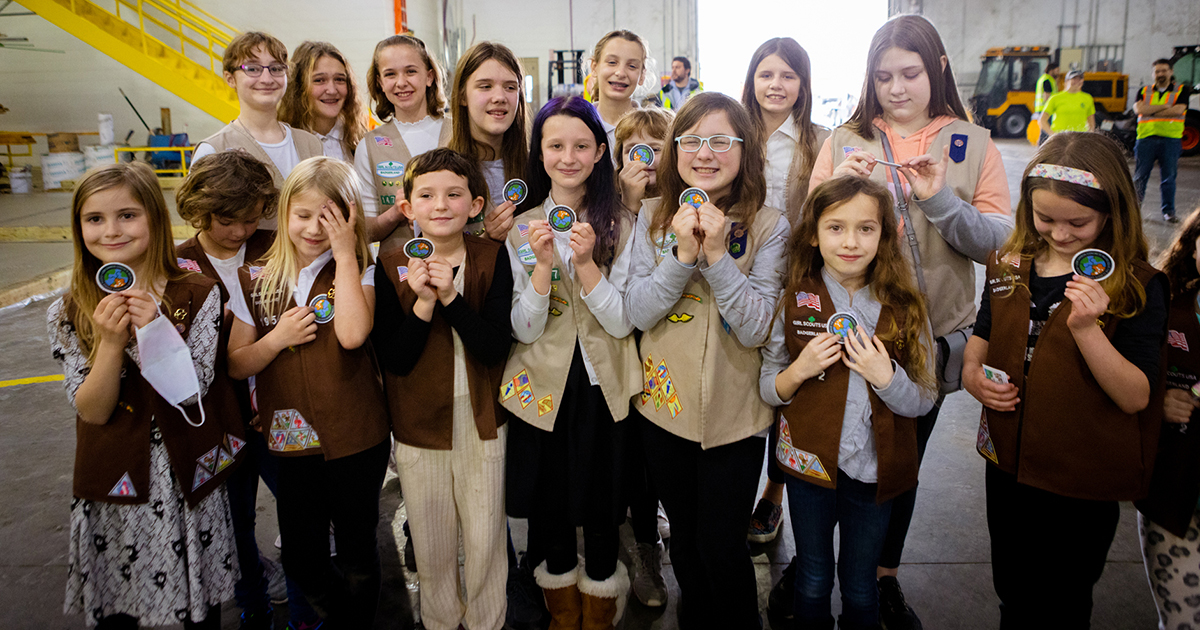 The Wisconsin Girl Scouts on a mission to raise awareness about embodied carbon
February 23, 2023
We need fresh new ideas to achieve our building decarbonization goals. The next generation energy pros who will help us find new solutions are everywhere: in engineering school, on powerlines, and places you'd least expect, like behind a table stacked with boxes of Thin Mints.
Meet the carbon experts of Girl Scout Troops 1477: Everly J., Kara K., Basil N., Ida P., Juniper L., Talia H., Ava S., and their Troop Leader, Julia Pooler. Recently returned from the national Greenbuild conference in San Francisco, the seventh graders reveal why they chose to tackle the challenge of embodied carbon.
Let's start with a simple question. What is embodied carbon?
When people think of a green building, they usually think about operational carbon, which is the climate impact of the energy used by the building after it is built. Embodied carbon is all of the carbon released into the air when you make and transport the building materials and put it together. – Kara K.
Great explanation. And embodied carbon is more difficult to measure. So how did you decide to do a project about embodied carbon in building materials? It certainly doesn't seem like you picked the easiest topic.
Our Girl Scout troop wanted to do a project that would have a big impact. From rising sea levels to dangerous hurricanes to extreme forest fires, climate change affects us all. But climate change is a huge problem, so we narrowed it down to embodied carbon and low-carbon concrete because we saw a lot of potential for change. Building materials are everywhere, and since they have such a big impact on the world, advocating for low-carbon options can really make a difference toward climate change. – Everly J.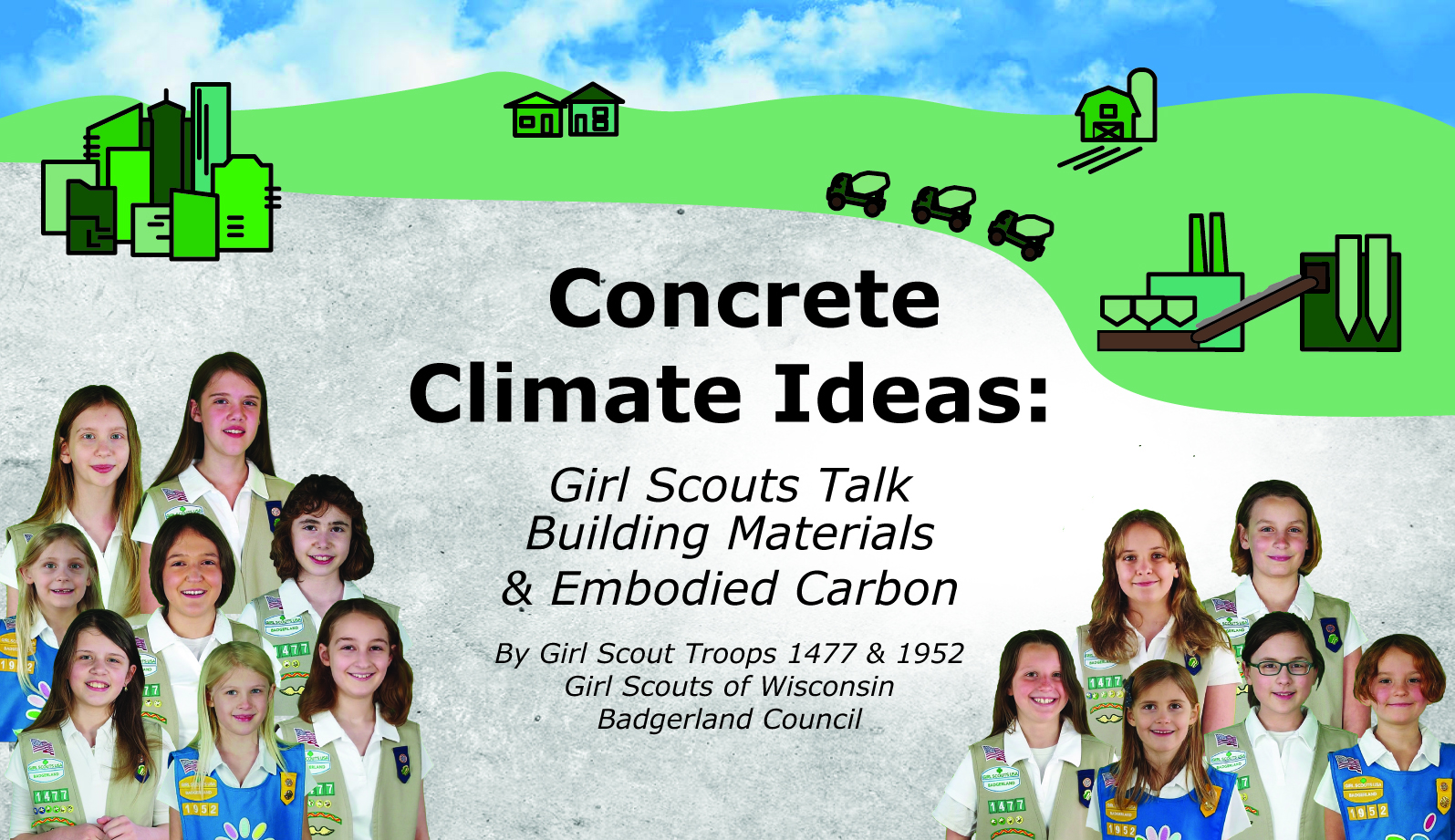 Climate change is such an important issue. We inherit this planet next, so the sooner we act, the better. We wanted to help people understand embodied carbon in concrete because 8% of global carbon emissions comes from cement production. – Basil N.
You're right — embodied carbon hasn't been talked about enough yet. So what are some of the ways the building industry can start to think about embodied and operational carbon together?
Do a life-cycle analysis when you begin to think about building a structure. Life cycle analysis lets architects and engineers look at the climate impact of embodied and operational carbon together to choose the best materials. We also encourage people to choose low-carbon materials using environmental product declarations (EPDs). EPDs are kind of like carbon nutrition facts for building materials. There are lots of tools, like the free EC3 tool developed by Building Transparency, and resources put together by the Carbon Leadership Forum, that can help people making building decisions with lower embodied carbon. We use so much concrete, so even small changes can have a big climate impact. – Kara K.
We also want people to know that Buy Clean policies for materials procurement are a great way to encourage the use of low-carbon materials. We want every city, state, and large business to pay attention to embodied carbon when they purchase building materials. Overall, we want everyone to see that building materials are a way to make a difference for the climate. Every building can be part of the solution. – Ida P.
How did you decide to spread the message that building materials impact climate?
We chose to start our project by making a video because we could reach a range of audiences in a way a lot of people would understand. I think one of the reasons these videos help raise awareness because people are curious. You don't expect kids to be learning about embodied carbon, much less talking about it, or singing about it. But that's what we did in our music video! – Juniper L.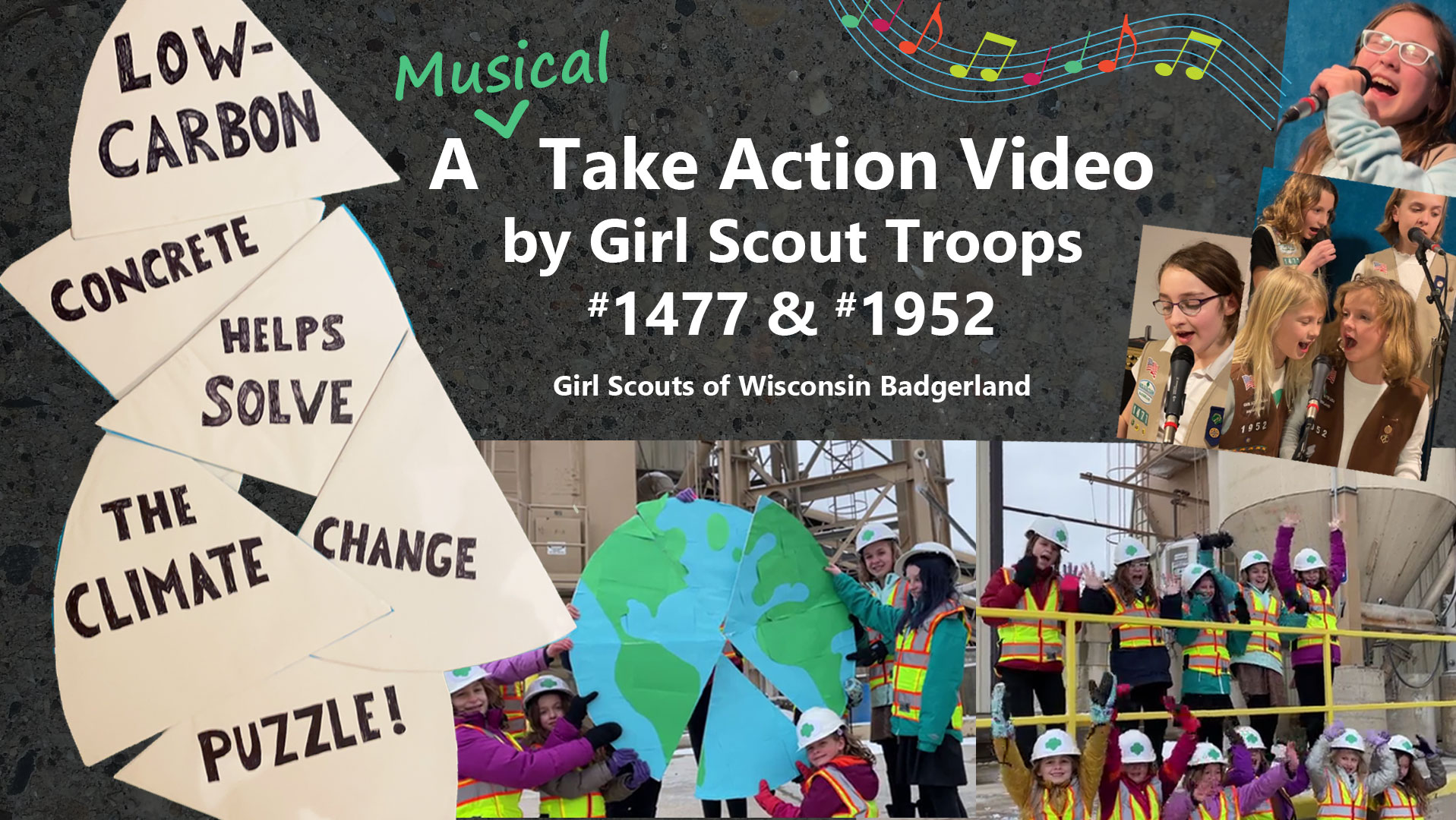 And the videos worked! Your advocacy project resulted in action right off the bat. Where have you shared your message?
We have been presented at lots of meetings for industry groups like American Concrete Institute-Wisconsin and Precast Concrete Institute - Illinois Wisconsin. They played our music video at the opening of the ACI National conference in March to thousands of concrete professionals. We've also spoken at conferences like American Institute of Architects - Wisconsin and at the national Greenbuild conference. – Talia H.
We have done lots of things locally and in Wisconsin. Our troop helped host a virtual roundtable so that people working in different stages of the building process could talk to each other about using low-carbon concrete. We presented at the City of Madison Board of Public Works and encouraged them to use low-carbon concrete mixes in city projects. We were successful, and even got to go to a test pour event where they used low-carbon concrete!

We also presented to the Wisconsin Office of Sustainability and Clean Energy, and they put our suggestions for low carbon concrete in the Wisconsin Clean Energy Plan! It was cool to see change in action. We've also gotten to speak with Lieutenant Governor Mandela Barnes about sustainable buildings and policy, and we were invited to attend the State of the State address with Governor Tony Evers! – Juniper L.
We spent most of Greenbuild at our booth spreading awareness about embodied carbon. We got to meet all these people interested in our project who wanted to connect with us, and we got to tell them all about why embodied carbon is important. We presented at the Women in Green luncheon while we were there. It meant a lot to present to people who are already doing so many incredible things to help the world. – Basil N.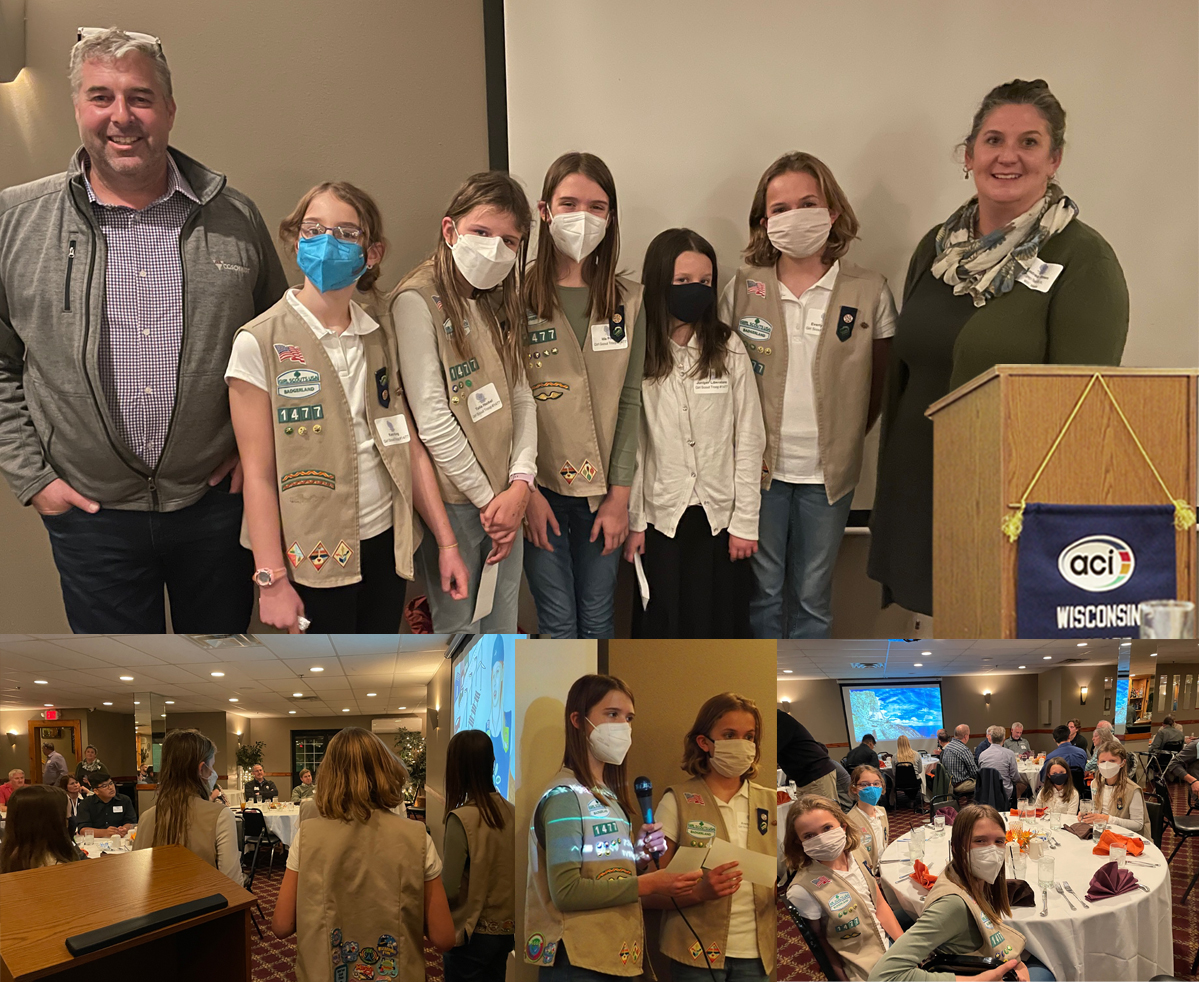 I'm so impressed right now. You're doing amazing work! How do people usually respond when they hear about your project? What about the building industry?
When we first started telling people about embodied carbon, nobody really knew what we were talking about and they were surprised to learn embodied carbon and building materials is such a big climate issue. Building industry professionals are really interested in our project and want to learn more and share things they have heard about the issue. The building professionals seem to like to quiz us on what we know and to teach us new things. – Ava S.
The building professionals always teach me new things when I talk to them too. Julia, I'd love for you to share what you've seen as the Troop leader on this project. What has the response been like in your experience?
Overall, our troops' advocacy project is part of a global movement to address embodied carbon that's gaining steam within the building and materials industries. Those outside the building industry sometime assume that our troop is "taking on" the industry when they hear about our topic. But the opposite is true: we're all in this together. Architects, engineers, and materials producers are learning about and trying to address embodied carbon, and our project is in line with major climate-focused building industry initiatives like Architecture 2030 and SE2050.
We encourage the same emerging best practices and innovations industry leaders promote. Our troop has worked with researchers and industry professionals to make sure that our project messages are relevant, accurate, and practical. There are so many ways the building industry can reduce its embodied carbon, but change requires a lot of awareness by different groups and increased public demand–and that's where a group of enthusiastic young voices can play a role. – Julia Pooler, Troop Leader, Girl Scout Troops #1477 & #1952
Absolutely. That's what I've been most inspired by with this project. Your Troop is so successful at adding fun to the decarbonization movement. What do you all hope to accomplish next?
We would love to expand our project and talk to more people in the industry, like architects, building developers, and materials producers. It would also be interesting to expand into other building materials, like mass timber and low-carbon steel, because those materials can have a big impact. I would really love if we got more youth involved. We are working on an idea for a program to include others in this project. I feel lucky to have an opportunity like this and it would be amazing to give that opportunity to other kids too. The more voices we have, the more powerful we become." – Basil N.
I want people my age to know that you can do anything you put your mind to. It's important to speak out when there's something that doesn't seem right to you. And by working together, you can make a huge impact. I hope what we have done has inspired other young people to take action in their neighborhood and beyond! – Juniper L.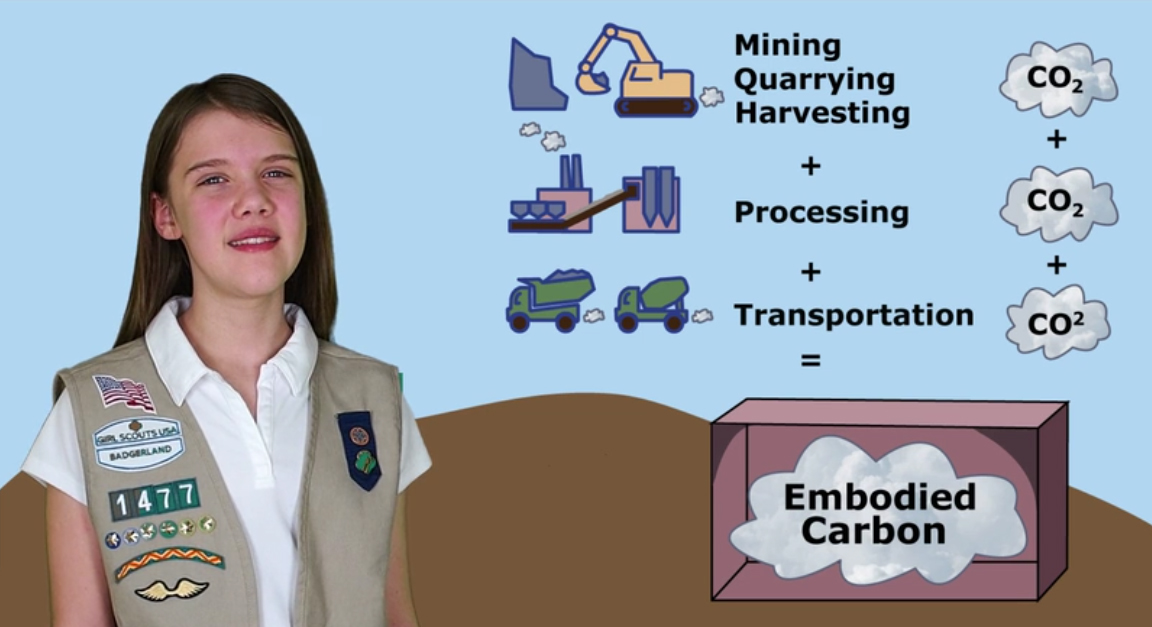 I'm so impressed with what you've done to educate and inspire. And I'm so excited to see what you'll keep doing with the momentum you've built. Would anyone like to share how this project has impacted you?
This project has been amazing. I get to take action on something I'm so passionate about. It's also helped me build my confidence and me as a person. I can't wait to continue this project and learn new things along the way! – Juniper L.
I'm interested in becoming a structural engineer because of this project. Learning about the materials I can use and the process it takes to make them is really cool, and I would like to try to make a building that uses the lowest impact materials I can find for a reasonable price. That would be really fulfilling. – Kara K.
Our embodied carbon project is the most important thing I've done in my life for the world so far. Maybe it's the most important thing I'll ever do for the world, because people are listening to my voice and it's making a difference. It's awesome to be doing this at twelve, because I'm super ambitious, I want to totally change the world, and it's really great to make a difference at such a young age." – Ava S.
And there you have it. Seventh grade Girl Scout Troop 1477 tells all about embodied carbon, the advocacy it takes to make change, and where they're headed next.
You can connect with Troop 1477, learn more about the embodied carb project, and see what they're up to next with Carbon Leadership Forum.