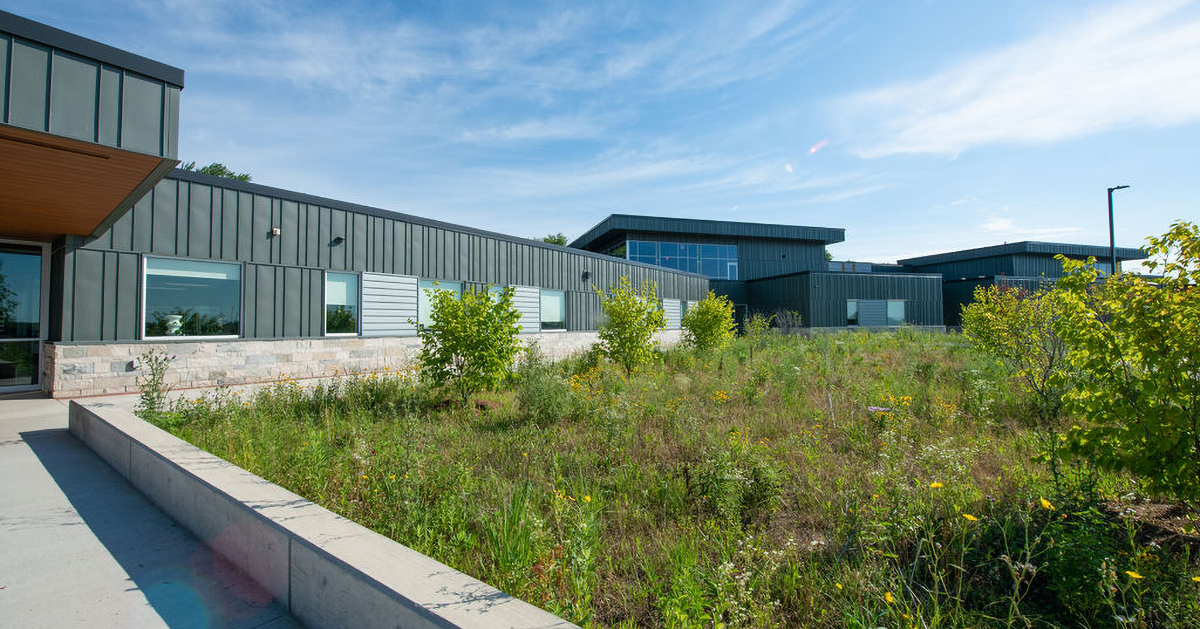 Meet the principal of Wisconsin's first net zero energy school
August 28, 2023
Kerri Modjeski, principal of Forest Edge Elementary School (FES) in Wisconsin's Oregon School District, joins me for a brief conversation amidst the hustle and bustle at the start of the 2022–2023 school year.
Forest Edge is Wisconsin's first Net Zero Energy (NZE) school.
I had the chance to tour FES in July 2022. It was clear to me that NZE wasn't just about saving money or cutting carbon—though the building certainly does both. The building is an investment in the next generation of environmental stewards.
Spoiler alert: I left the tour wishing I were an elementary student at FES. No small feat!
Let's start with the FES origin story. What makes a school district decide to aim for NZE?
Our school board and business director deserve a lot of credit. Their combined focus on cost savings and leaving a smaller carbon footprint laid the groundwork for us to take a leap of faith and break ground on this school.
While there is an initial investment, the savings over time are exponential—both from a financial and environmental perspective.
How did the community react to the idea of a ZNE school?
The potential cost savings over time caught the eyes of the community. Together we realized we had the opportunity to do more than save money. We could be a guidepost to the future.
Down the road we'll need to build more schools as we grow, and I predict we'll do something similar. This building will pay for itself faster than other buildings.
We collaborated every step of the way with community members and teachers—from the wall art to the furniture to deciding which plants to place in which soil. We only had one chance to do it right, and we wanted to hear from every stakeholder with an active interest in the building.
I absolutely see this school as a guidepost for the future. What makes FES a special place to learn?
I'll start outside. Our district purchased an older home adjacent to our land that we'll turn into a nature center for the district. Walking paths are close to ready—we just need to make them ADA-compliant.
We have interesting wildlife all around. A pair of sandhill cranes will come right up to the window and peck. We've seen coyotes, which is a little unnerving. We have turkeys, a hawk, and a mama deer and her two fawns nested in one of our woods.
We cleared out a prairie last year, and our district naturalist Megan uses the space to teach kids to identify plants. Our first grade students learned about pollination last year and built a pollinator garden.
Fourth graders, led by their teachers, became ambassadors of our space. They built courtyard garden beds through science lessons about the plant life cycle and math lessons about area, perimeter, and volume.
It's really something to look out and see students eating peppers like they're apples.
Once we get inside, we start to teach students about energy. Touchpads throughout the school allow students to see our solar and energy usage plus how much we've composted, recycled, or sent to a landfill. Kids get to play around with week-to-week usage, winter versus summer, and more. We want them to be aware of how they impact those numbers and how the decisions we make as a district impact those numbers.
We have cutouts on the ground floor for kids to see the geothermal pipes. One of my favorite walls in the school shows an illustration of the state capital building flipped upside down against geothermal pipes to help students understand their size.
It's fascinating to see kids react to the solar panels when they look out the windows on the second floor.
They're realizing we're powered by these things—not gas lines.
I wish I could go to school here! Jokes aside, it's clear to me that everyone is thinking about the students at every conjecture. What are your goals for them and their time at FES?
We want kids to leave this building with a knowledge of what it means to be net zero.
We designed the inside of our building with the theme "energy grounded in nature." Each pod has a theme. Our younger learners are on the first floor and the older kids are on the second floor. Where they learn about thermal energy on floor one, they also learn about thermal energy on floor two, but the depth of detail and language differs.
I want them to understand their impact on the environment, and I want them to understand that there are other ways to power spaces—and use spaces—frankly.
Our district focal point is our "Portrait of a Graduate," which defines the characteristics, attributes, and skills we want our students to have by graduation. I write goals that align with this and answer the question, "Where do I want them to be when they leave sixth grade and after seven years in this place?"
I want them to develop ecological literacy. I want them to understand the importance of sustainability. And I want them, most of all, to be responsible stewards of the environment.
If even one kid makes a thoughtful decision or career choice about sustainability, it's worth it.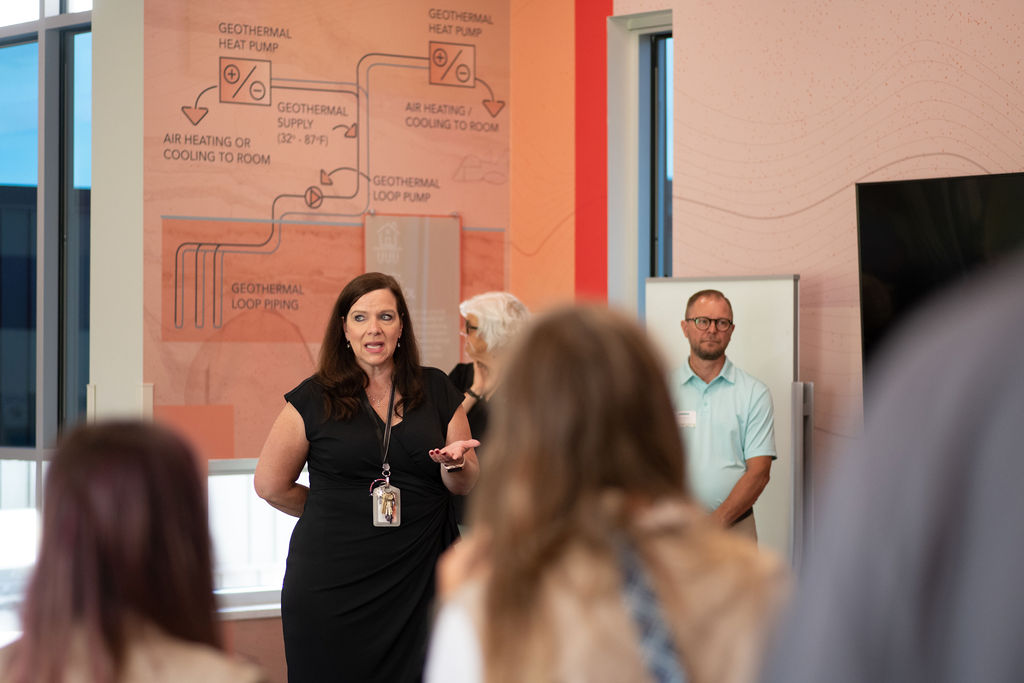 Kerri addresses a crowd during a tour of the school's classrooms, where the walls themselves are lessons.
Checking in after the school year
Kerri joins me again, this time amidst the hugs and well wishes for the next generation of environmental stewards who just finished the school year.
I don't even have to ask how the school year was. You can hear the joy in Kerri's voice.
How have things progressed from our last conversation?
Things went better than I could have imagined in August. Our teachers invested in support for students and each other. They collaborated on grade-level lesson plans about energy and our building, and each year's lesson plans build on the lessons from the grade prior, and the STEAM (science, technology, engineering, art, and math) teacher helped integrate art in the learning process.
Now we have 24 ready-to-use lesson plans—written by teachers for teachers—that use our building as a teaching tool.
Scaffolding the lessons is a great way to make sure their knowledge evolves with the building. How have the students interacted with the building?
They get excited to understand how the building works.
We had a grant for a sixth grade teacher to start an Energy Club. Our older students got together and worked with the teacher to develop "mini-lessons" that an older student could take to a younger classroom and help them look at the energy use and compost data available on the touchpads throughout the school to make good energy and conservation decisions.
Eventually the kids got to the point where they would run around to make sure lights were turned off or there wasn't compost in the trash. They became real ambassadors of change who want to improve what we do here.
It sounds like they're having a lot of fun, and they feel like they're part of something important.
We want them to shape the school. Our student leadership group found that students are excited to explore nature and make the forest behind the school more accessible. So now we're going to build a series of lesson plans that build on that interest.
The right energy and interest from the teachers grows the right energy and interest in students.
I ask Kerri what didn't go well and all she can tell me is that the compost could have been placed better. With a first year back to school full time that went this well, what comes next?
There's new retirement community being built in our neighborhood. We're in conversation with them about building the community to be net zero, and we hope to find ways to get residents involved at the school, perhaps to tend the gardens or mentor the students. They'll tour the school soon.
Several houses nearby are also built sustainably—the neighborhood invests in sustainable living. We're working with a neighborhood group to map out safe routes to school.
It's really about a holistic sustainable solution, but the building also delivers the cost savings and carbon reduction it promises.
Our district gave us the greenlight to keep going. So who knows? Maybe next year we'll be running plant and animal studies that immerse our students in nature.
My advice if you're on the fence.
It's more than worth it. Push go.
Contact Kerri: