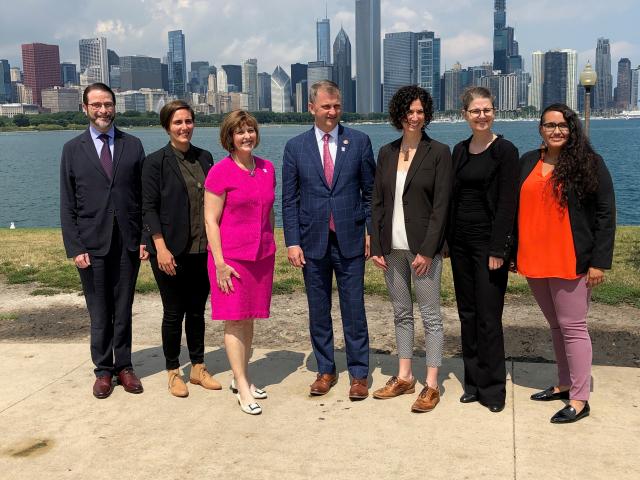 Climate Crisis Roundtable
August 28, 2019
Earlier this year I joined Slipstream to help reduce carbon emissions and strengthen communities. Or, as I put it when I updated my LinkedIn profile, "More community. Less carbon. Great careers."
A couple of weeks ago, as I was digging in from my base in Chicago, I was asked to speak at a roundtable held by the House Select Committee on the Climate Crisis. Communities everywhere will be part of creating solutions to climate change. I served as Chief Sustainability Officer for the City of Chicago for about five years, and they wanted me to address Chicago's experience.
Chicago was founded 182 years ago as a small port town. At that time, this area was largely wetlands on the shores of beautiful Lake Michigan, and our founders chose the motto "City in a Garden." We have built a great deal in our garden in the years since. Chicago constructed the first skyscraper more than 130 years ago and built one of the largest green roofs in the world, Millennium Park.
One thing that hasn't changed is our location. Chicago is here. We aren't moving. We must adapt to increased heat, storms, and flooding as the climate changes while we work to reduce carbon emissions.
Let's start with the basic data. Seventy-two percent of emissions generated in the city of Chicago come from heating, cooling, and operating buildings. The second largest source is transportation which generates 25 percent.
Energy efficiency is key. The city launched a leadership program called Retrofit Chicago which works with large buildings that commit to a 20 percent reduction in energy use within five years. Ninety buildings representing 57 million square feet and various ages, uses, and architectural styles are now engaged. Most impressive of all: about 1/3 have already met their energy reduction goal.
In addition to Retrofit Chicago, all commercial, residential, and municipal buildings over 50,000 square feet are required to benchmark, verify, and disclose their energy use. This policy is driven by the belief that information is power, and we should all have access to it. More than 2,800 buildings representing all Chicago neighborhoods are involved. Participating buildings have saved $61 million since 2014 and median carbon emissions per square foot have dropped.
Chicago has also looked to the future of energy sources. A few years ago, Chicago was home to the last two working urban coal fired power plants in the country. Many Chicago children, particularly those in Pilsen and Little Village, grew up breathing the dirty air they created. These plants have closed, and Chicago buys its electricity from coal-free sources. The city has committed that 100 percent of its electricity will come from renewable sources by 2025.
While buildings are using less energy and increasingly using green energy, transportation is going green. Unbeknownst to many, countless people ride in electric vehicles every day – the CTA trains. The city has launched two electric buses and is in the process of procuring dozens more with a goal of 100 percent by 2040. With less carbon, cleaner air, and lower noise levels, the difference in daily life will be profound.
The city also changed zoning requirements to encourage building more multifamily residences close to transit stops. These new buildings offer residents the chance to live without a car, saving money while still meeting their needs.
Chicago is still a "City in a Garden." The city, in partnership with other parts of local government, nonprofits, and residents, is redesigning the land around schools in some of Chicago's more under-resourced communities with features selected by local residents – from community gardens to playgrounds to race tracks. These elements are designed to capture stormwater and cool the area, helping our communities address the local impacts of climate change.
Chicago isn't going anywhere. From our humble beginnings we have grown into a global metropolis. As climate change impacts are all around us, we see solutions rooted locally. From 2005 to 2015, Chicago reduced emissions 11 percent. At the same time jobs in Chicago increased 7 percent. We can strengthen our economy and reduce our emissions. We can build healthier neighborhoods and address climate impacts. We can offer a better future to today's residents and to tomorrow's.
Climate threats are real, but climate solutions are already here. I look forward to working with all of you to make them happen.