Jeannette LeZaks
Director of Research + Innovation
Jeannette believes that the solutions to our energy challenges necessitate a multi-faceted approach. Her experience reflects that belief, as she brings a comprehensive background in energy systems analysis. Her work at Slipstream focuses on applied and technical research examining how people use energy, and hopes that this knowledge will serve to advance energy efficiency and sustainability. She serves as a volunteer member on the City of Madison's Sustainable Madison Commission.
Jeannette has a Bachelor's degree in Natural Resources from Cornell University and a Master's degree focusing on Energy Analysis and Policy from the Nelson Institute of Environmental Studies at UW-Madison.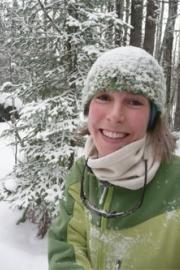 Fun Facts
MY PASSION
Treading lightly on the planet, but trying to have fun while doing so

FUN FACT
I speak Spanish and Guarani (indigenous language of Paraguay). One language is definitely more useful than the other!