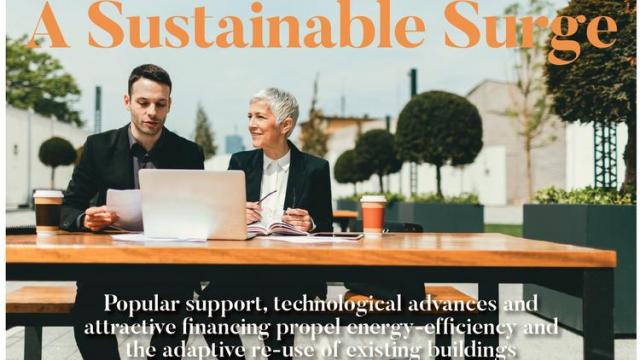 Slipstreamers share sustainability insights in Milwaukee Business Journal
The Milwaukee Business Journal published an article titled, "A Sustainable Surge: Popular support, technological advances and attractive financing propel energy-efficiency and the adaptive re-use of existing buildings." Our very own Connor Jansen, senior product manager, and Kim Johnston, senior marketing manager, were featured in the article to provide insights on how to make buildings more sustainable, why it is important to do so, what resources are available to help mitigate costs, and what trends are coming for the future. At Slipstream, our goal is to educate others on how to move toward a clean energy economy.
Below is a peek at the article. Check out the full article here.
The business community increasingly see sustainability as the key to a community's economic growth. It can benefit individual businesses by reducing energy costs, improving their ability to recruit and retain talent, and enhancing their brand. It benefits the community by preserving and enhancing local natural resources and by making the community a desirable place to live and work. Low-cost financing packages and incentive programs have made it affordable for more companies. The Milwaukee Business Journal recently assembled a panel of experts to explore why sustainability is important, what property owners can do to promote sustainability both inside and outside of their buildings, and how technology and financial incentives are making it an increasingly affordable investment.
MODERATOR: LET'S START BY DEFINING SUSTAINABILITY AND WHY YOU THINK IT IS IMPORTANT FOR ATTRACTING TALENT, POSITIONING A COMPANY'S BRAND AND GENERATING ECONOMIC GROWTH.
CONNOR JANSEN: The United Nations defined sustainability as meeting the needs of the present without compromising the ability of future generations to meet their needs. Sustainability also ties back to the Wisconsin conservation movement of the 1920s, which was trying to find ways to build or live on a piece of land without spoiling it. Both of these ideas tie into each other. The social movement for sustainability is here, and as it continues to mature, people are going to be demanding that buildings, products and services be more and more sustainable.
KIMBERLY JOHNSTON: For communities, clean-energy financing is both an economic development tool, because it incentivizes commercial building owners to implement energy-reducing measures, and a sustainability tool, because it updates existing properties and reduces the community's carbon footprint. Clean energy financing is now available to property owners in more than 40 counties in the state through PACE Wisconsin, which works with participating property assessed clean energy (PACE) lenders to provide zero-down, low-cost financing for energy-savings measures.