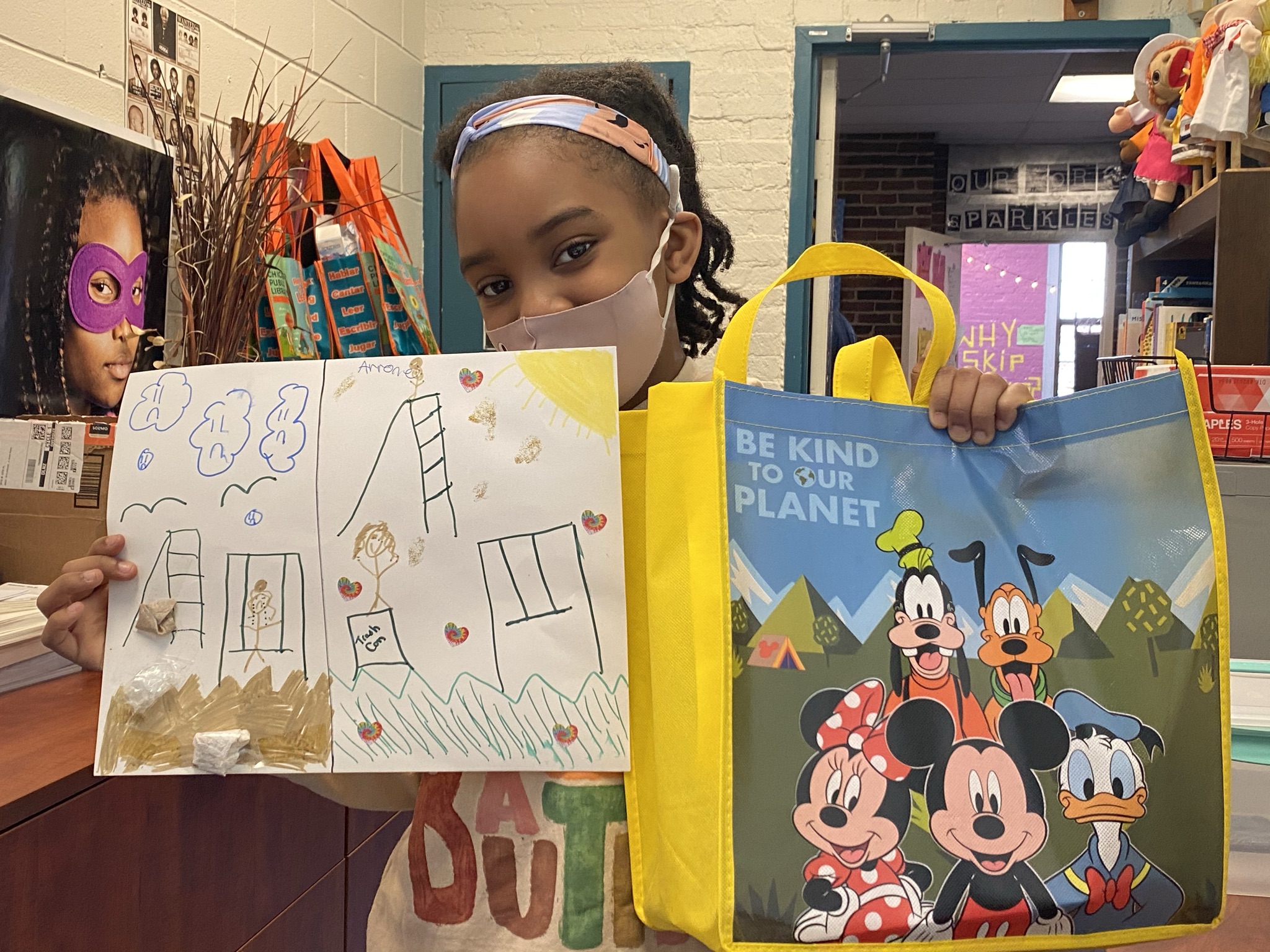 By growing yourself, you enable others to grow
Slipstream's Prachi Sharma on volunteering with Illinois Green Alliance
I have been a proud Slipstreamer since 2019. In addition to contributing to the mission of my workplace as a good teammate and an Equity, Diversity, and Inclusion ally, I volunteer my time at Illinois Green Alliance (IGA)—a member-driven nonprofit working to promote buildings and communities that give people better, brighter, healthier places to live, work, and learn.
What Led Me to the Energy Efficiency Industry
There is a symbiotic relationship between my work and my personal traits; just as my strengths have helped me excel at work, my work experiences have been conducive to my self-discovery. Since I was a little girl, I've known in my heart what I wanted to be when I grew up. That vision has shaped my actions and decisions throughout my life.
But it was not a stereotypical child's dream such as a doctor or an astronaut. In all honesty, I looked up to my parents for inspiration.
My father was an officer in the Indian Navy. Among his many feats as a naval architect, he was part of the design team for many vessels, including ships and submarines. My mother was an interior decorator and an educator. Together, their professions inspired me to become an architect myself. After gaining maturity and experience, I realized that my passion for conserving the built environment is a natural calling I am destined to follow.
No matter how much logic you put into your decisions, your personality will always influence the way you make a choice. Growing up, my parents instilled in me that nothing gets done by one person alone, which means we must band together to make the changes we want to see in this world. By growing yourself, you enable others to grow. That wisdom has been the driving force behind my career.
Volunteering with Illinois Green Alliance
I've always been one for setting objectives. As I worked on my masters degree in Sustainable Management, I began to volunteer with IGA in 2018 because their goals aligned with my own and would allow me to contribute to the larger cause I cared about.
I also honed my skills to contribute in unique ways, as when I attended an IGA training for Sustainable Facilities Mentorship using the BIT building practices. After the training, I engaged with a facility, provided them with low-cost solutions, and enabled them with sustainable practices.
I partnered with the Chicago Youth Center Sydney Epstein Center at North Lawndale, a youth focused organization that provides after school and summer activities for underprivileged youth in the neighborhood. I had previously connected with Clarence Hogan, the Facilities director, when I was a co-chair for the sustainability day camp organized by the IGA Auxiliary Board, on which I also serve. Clarence and I created a Green Team and my goal was to meet monthly, do a walkthrough of the facility, and provide them specific solutions. Each month we focused on a different area, such as:
Energy
Water
Recycling/composting
Indoor Air Quality
Transportation and Procurement policies
The solutions I suggested could take a while to implement, so we also created activities for the youth who visited the Youth Center to accelerate change and enable the ripple effect of getting information out to the neighborhood.
Every Wednesday, we planned activities focused on developing sustainable behavior while also fostering a conversation about the importance of sustainability and conservation. We also gave participating kids kits to implement sustainable practices in their own homes.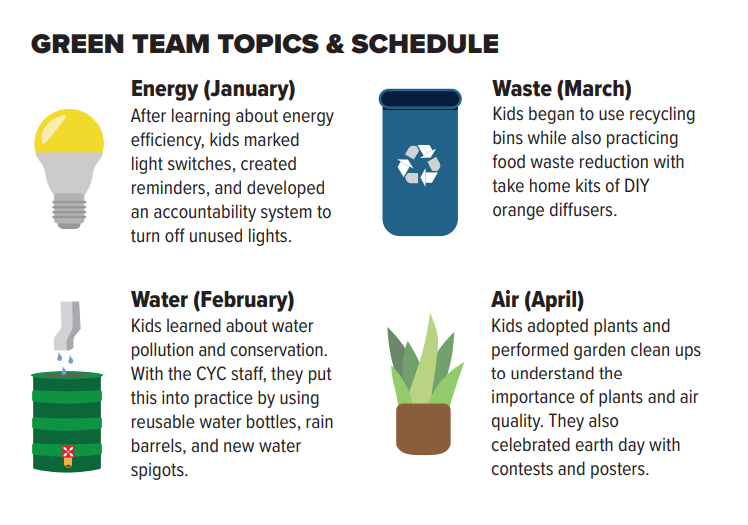 Special Earth Day Programming
Our Earth Day programming focused on sustainability in general with a special focus on food scraps. We planned a four-day event with virtual games, poster contests, food scrap potpourri, candle making, and soup recipes.
Because of the success of our Green Team at CYC-Sidney Epstein, other CYCs have expressed interest in developing a Green Team to improve sustainability in their facilities and communities.
The CYC-Sidney Epstein's next step is to apply for grants and other funding to implement some of the higher-level solutions I outlined. This might include utility incentives and the Neighborhood Power Project IGA offers, which provides a holistic building performance assessment and funding to implement improvements.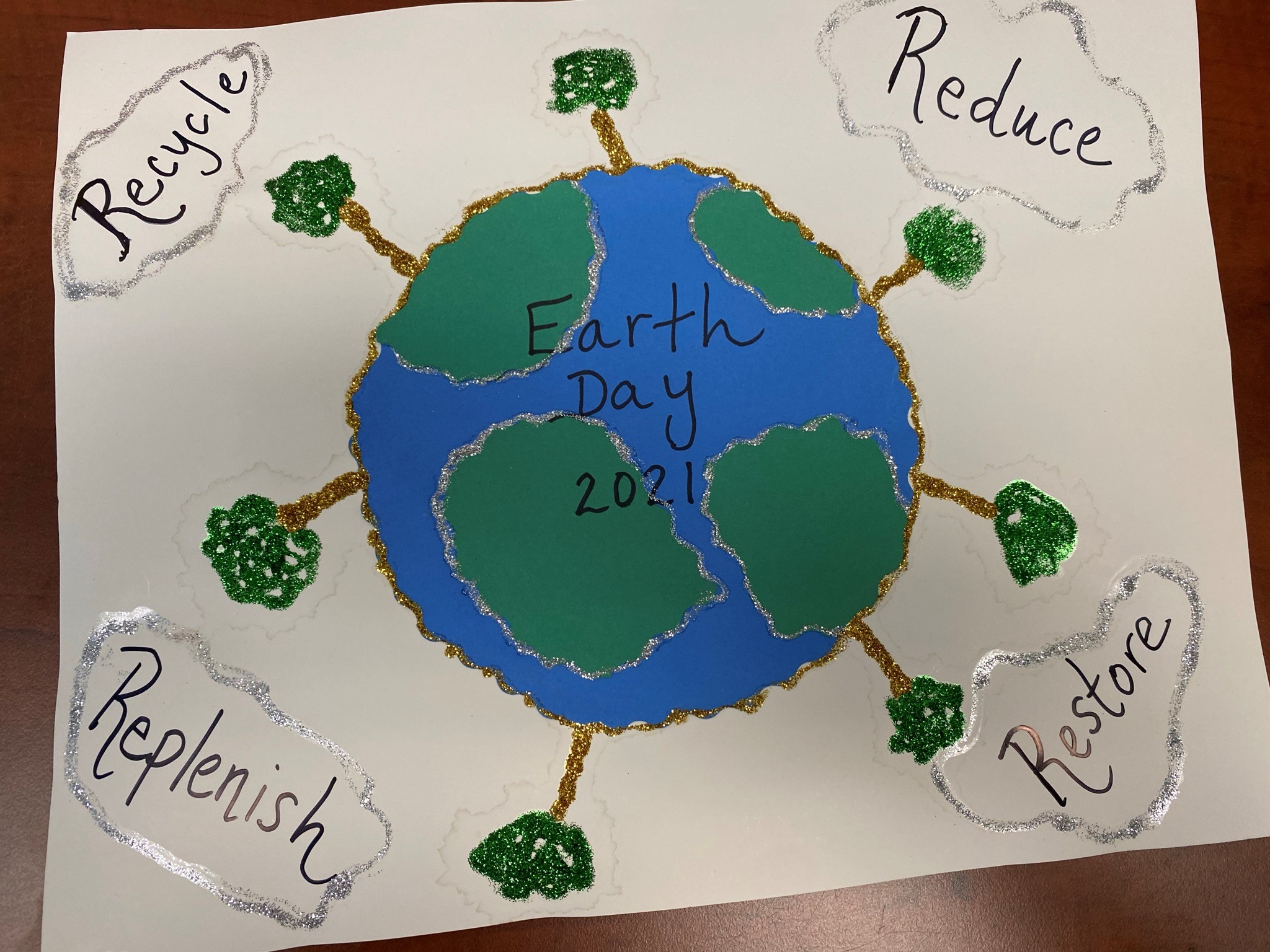 As I take on other challenges at IGA—either through the Auxiliary Board or the Justice, Equity, Diversity and Inclusion Board—I will continue my work with CYC- Sidney Epstein in collaboration with them on the Neighborhood Power Project. My passion to accept challenges in diverse cultures has been instrumental in my growth and has helped me define my goals so far. My only hope is that as I continue to grow, I can enable others to grow as well.