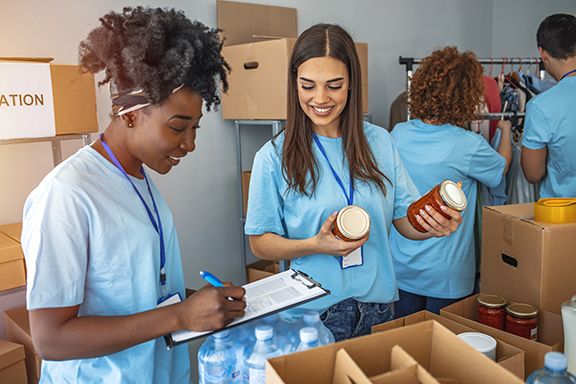 Program spotlight: How one rural Michigan co-op invests in their community by serving non-profit businesses
Nestled along the Lake Huron shoreline near the top of Michigan's lower peninsula, Presque Isle Electric and Gas Co-op (PIE&G) serves roughly 7.5 members per mile of line.
Weather conditions, vegetation, and distance between meters make it difficult to provide energy services. Yet Presque Isle Electric Cooperative lit the way for residents in 1937 and became PIE&G with the addition of natural gas services in 1994 to serve citizens of rural Michigan where other big companies would not.
People often call rural communities "hard-to-reach," but the truth is these communities are often left out of traditional solutions.
PIE&G's successful Non-Profit Business Bonus proves the power of programs that understand a community and its needs.
What is the non-profit business bonus?
A program that offers incentives for energy efficiency solutions that will help organizations that serve people and families with low-to-moderate incomes improve energy performance, manage electricity use, and reduce energy bills.
Potential projects include LED lighting upgrades and appliance/HVAC replacement or cleaning/tune-ups for furnaces, high-efficiency water heaters, heat pumps, refrigerators, and more. The program also leaves space for custom projects that meet specific needs.
Why invest in community-service organizations?
Because every dollar an organization saves on its overhead costs is another dollar that can be invested in programs to support the community and the PIE&G members who need help the most.
"Local organizations are typically grant funded and looking for resources that can help them serve their people the way they need," explains Tom Sobeck, PIE&G President and CEO. "The Non-Profit Business Bonus allows PIE&G to augment the already-strong support system in our region."
Organizations that serve senior citizens, summer camps for children in low-income families, rental housing for people with low to moderate incomes, and other community organizations waste less energy heating and cooling buildings, water, and food thanks to this important program. That's not only good for the organization receiving the bonuses but also for the individuals and families in the area and, ultimately, the environment that we all share.
"We are only successful when our communities are successful, and the cost of energy is not going down," reiterates Tom. "Making it easier for commercial members to lower their energy consumption and better support our community is beneficial for all of us."
How could a similar program work in your community?
Flexibility is key to program success—especially for a model that serves organizations that serve their community. Every organization has unique needs and requires specific measures tailored to serve them. Slipstream works to identify the best approach that benefits the organization beyond cost and energy savings.
Are you looking to better understand your community's needs and how to scale programs like this in your market? Ready to take the next step on a new program in your service area? We can help you achieve your goals by doing this important and service mission-oriented work together. Reach out to managing director of service development Claire Cowan.
Questions about the Non-Profit Business Bonus or other ways to help your income-qualified customer base? Get in touch with program manager Rachel Krogman.