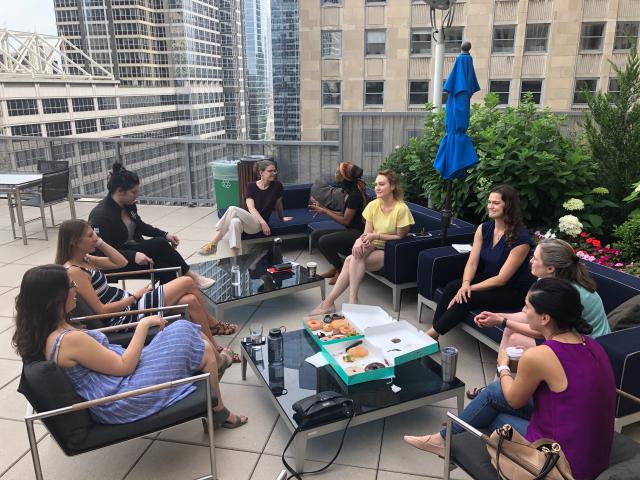 Meet some of Slipstream's fierce women in honor of Women's History Month
March 5, 2020
March is Women's History Month – a time to commemorate and encourage the study, observance, and celebration of the vital role of women in American history. In honor of this important month, we want to recognize the inspiring and unstoppable Slipstream women. This is just a small sample of the incredibly creative, innovative, and strong women who strive to live our mission every day. Enjoy learning about these passionate individuals that we are so honored and proud to have at Slipstream.
What is your current role, how long have you worked at Slipstream, and where do you like to volunteer?
| | |
| --- | --- |
| | Kellen McSweeney (KS): I am a program manager and have been at Slipstream for two and a half years. I've been a co-chair of the auxiliary board at Illinois Green Alliance and volunteered on committees for Greenbuild and a youth mentoring program. |
| | Jeannette LeZaks (JL): I am a senior researcher and have worked at Slipstream for nine years. I manage and deliver research and planning projects, applying technical research to examine how people use energy (and how they can hopefully use less of it). I am also currently a co-chair of the Sustainable Madison Committee, where I work to advance local environmental policy. |
| | Shannon Stendel (SS): I am a product developer and have been at Slipstream for seven years. I participate in Northeast Energy Efficiency Partnership's (NEEP) Home Energy Management Systems (HEMS) working group and American Council for an Energy Efficient Economy (ACEEE) Bridging Health and Energy Efficiency working group. I also mentor a local college student as part of the Wisconsin Women's Network Mentorship Program. |
| | Puja Vohra (PV): I am a director of business development and have been at Slipstream for one year. I am a board member of a grassroots environmental nonprofit called Massachusetts Climate Action Network (MCAN). I am also the City of Newton's Mayor elect energy commission member. Our focus is to develop our climate action plan and implement city carbon reduction goals. In addition, for the last 20 years, I have volunteered for a nonprofit called Vibha that focuses on providing sustainable educational solutions for underprivileged children. |
Describe a typical day in your role.
KS: My typical day involves all things operations for our client's Commercial, Industrial, and Public Sector New Construction program. Most of that chalks up to spreadsheets, spreadsheets, and more spreadsheets. I work on financial forecasting, program reporting, verification and evaluation, and subcontractor management to name a few things.
JL: Every day is something different. I manage a number of projects, so a good amount of my time is spent tracking those by keeping tabs on budgets and reporting requirements for clients. I respond to plenty of emails and attend meetings to discuss those projects and new potential opportunities. I also try to stay abreast of research and what's going on in the energy world. When I'm not managing the projects, I dive into data and work to communicate our findings.
SS: I design and develop interesting research and program concepts to pursue, research potential partners and funders, talk with potential partners and funders, support proposal development, lead pilots and research projects, and read industry news and updates. I always consider different approaches to increase consumer demand for home retrofit services.
Recently I've started to explore the integration of health and energy. I'm excited to see how my past experiences with the health community and energy efficiency can come together to do great things to help the people who need it the most.
PV: My role is to help expand Slipstream's clean energy program offerings and consulting services. On a typical day, I engage with current and potential clients and identify how Slipstream can assist and keep up to speed with energy policy and programs in the Northeast.
What is your proudest accomplishment at Slipstream?
KS: My proudest accomplishment is the growth I've had in my 2+ years working at Slipstream. From having never worked on utility energy efficiency programs, I've learned enough to now be able to take part and sometimes take lead on our financial forecasting, program strategy, and internal operation's processes. A big part of this has been streamlining, optimizing, and documenting internal processes in outreach, marketing, and overall operations.
JL: Generally, I am proud of providing good research and resources to our clients. I am especially proud of the Office of Energy Innovation Energy Planning grant that we are finishing up.
SS: I am proud of leading a pilot exploring how smart thermostat data analytics can break down barriers to the home retrofit process. I am also leading Slipstream's manufactured homes strategy and supporting our operations team in delivering energy efficiency services to help manufactured home residents.
PV: I've been at Slipstream for just a year, but my hope is to use my 18 years of experience in energy and sustainability to advance and scale Slipstream's mission.
Who is a woman you admire and why?
KS: My mom has always been the most important woman in my life. She raised my sister and me as a single mom working a full-time job, wrangled our schedules as we both played competitive travel sports, and somehow always had dinner on the table. She has been my inspiration in nearly all aspects of my life, and I attribute much of my work ethic to how she provided for us throughout my childhood.
JL: Right now, it's Michelle Obama—she's an incredibly smart woman in her own right who worked so hard to get to where she is now. After reading her autobiography, I was inspired to be more active in the community and be the change you want to see.
SS: Women who think outside the box, take risks, pursue their dreams, are kind and sassy, and work to live their best lives. My childhood friend, Katie, lives life to the fullest and overcomes adversity with a huge smile on her face every day. The power of positivity is real!
PV: I admire many women. The strong headed women in my own family who are a constant source of encouragement (and honest/brutal criticism to keep me tough), working moms around the world in every economic group who strive to balance work and family, women in my profession, and then grounded personalities like Vandana Shiva (an environmental activist), and Sudha Murthy (chairperson of Infosys Foundation).
What is the best piece of career advice you have ever received?
KS: Show up and push forward. If you are working a job you love and are passionate about, this can be quite easy to show up and be excited and work your hardest. It's not so easy when you aren't working your dream job, but still just as important (if not more) to show up with your best. Not only will it help you personally grow in your work ethic and perseverance but will show your colleagues and bosses your value in the workplace.
JL: Network! You never know where that professional relationship will take you. Plus, it's a good way of getting inspired by all the good and interesting things people are doing in this world.
SS: When it comes to motivating and mentoring people, "you can't train care." It's not an elegant statement, but in other words, you can teach technical and soft skills, but if somebody's heart isn't in it then teaching those skills won't have much of an impact. It's one of the best pieces of leadership advice I have ever received.
PV: Identify your strengths and then focus on enhancing them rather than focusing on your weaknesses.