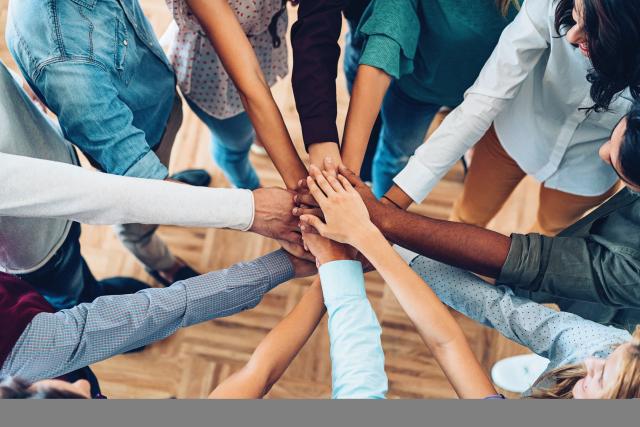 Why diversity and inclusion matter to us
April 9, 2020
April is Diversity Month and serves as a reminder to all of us to celebrate other cultures and populations. At Slipstream, we are focusing on how to make our workplace as inclusive and diverse as possible. We strive for our workplace to reflect the diversity of our customers and clients. In order to do so, our diversity and inclusion team meets regularly to plan and implement internal initiatives that will help us meet these goals. We asked members of our diversity and inclusion team to describe why diversity in the workplace matters and why Slipstream's commitment to diversity and inclusion is important to our mission. Check out their insightful responses.
Why does diversity in the workplace matter to you?
Marge Anderson, executive vice president - It's inspiring to hear from people who have different life experiences and perspectives than mine. Working with a diverse bunch of people sparks curiosity and innovation. Building an inclusive culture challenges stale approaches and brings energy to our organization.

Lee Shaver, engineer - To paraphrase John Donne: "Any one's suffering diminishes me, because I am involved in humanity; and therefore, never send to know for whom the bell tolls; it tolls for thee." The lack of diversity in our workplaces is a result of the inequity that is the foundation on which our society is built. If we don't address inequity, that foundation is doomed to fail, and all of us will suffer.

As a white man, I spent much of my life oblivious to the inequity around me. Later, I started to see the existence and impact of inequity, but still I thought my identity shielded me from any harm. Though I've got a long way to go, I now see that "I am involved in humanity," so that suffering is mine too. But more importantly, it's my responsibility to be a part of the solution. I spend half of my waking hours at work, so it's here that I can have the broadest impact.

Joe Zhou, principal engineer - We can learn from others who may have a variety of different perspectives.
Lyra Trapp, human resource manager - Talent is everyone. Our ability to attract and retain talent is vital to our future. Feeling included fuels employee engagement and motivation. If you've ever been excluded, you know how it feels to be undervalued. Inclusion invites people to contribute their unique ideas and experiences to enrich our workplace. To me, inclusion is critical to achieving diversity. The more we build trust and meaningful relationships, eliminate negative experiences (harassment, bullying), and respect differences of opinion; the more welcoming we become.
Megan Halvorson, executive assistant – It matters because it gives people an opportunity to grow and learn from others. By working with people from different backgrounds, different experiences, and working styles, we learn and get another view. Diverse views make for better decisions, and in return drive a high-performance culture. Most importantly it's just the right thing to do. It's about creating equal opportunities for everyone.
Why is Slipstream's commitment to diversity and inclusion important to our mission?
Marge Anderson - An equitable, decarbonized economy isn't going to happen with the same old approaches. We need fresh perspectives, role models of resilience and persistence, and the genius of everyone. Inclusion increases our cultural competence. Diversity brings new talent to the challenge!
Lee Shaver - To paraphrase our mission, Slipstream exists to save the world from climate change. To do that, we must know how we got here. If we do not address the inequity upon which our society is built, we cannot expect any of the solutions we propose for climate change to take root and cause lasting impact.
Joe Zhou - Our mission is advancing clean energy for all. Commitment to diversity and inclusion is not only important internally to fulfill our business goals, but also to our clients who may be poverty-stricken, or in rural or undeserved areas. They need the help the most.
Lyra Trapp - Diversity and inclusion aligns with our values, specifically, commitment to community. Studies indicate that Dane county is home to some of the widest disparities of any place in America. Our customers and clients demand it; more and more contracts have diversity requirements. The workforce is becoming increasingly more diverse with more women entering the workforce and a projection that the workforce will be majority non-white by 2032. Diversity is also one of the key factors in innovative workplaces.
Megan Halvorson- Accepting diversity and inclusion into our mission and values is a way to deliberately make space for positive outcomes to grow and enhance ideas and innovation. It should be important to all business's mission and not just Slipstream's.