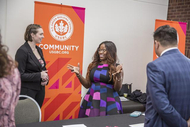 USGBC Impact conference – April 8-9: will you be there?
November 8, 2019

The U.S. Green Building Council's IMPACT conference is the Midwest's green building event of the year, attracting hundreds of green building professionals from across the region, and serving as a forum for builders, developers, sustainability leaders and change makers to unite and demonstrate the many innovative ways the Midwest is raising the bar when it comes to green building.
The 2019 IMPACT conference will be held April 8-9 in Saint Paul, Minnesota, and will be co-located with the Green Schools Conference & Expo (GSCE), the largest annual event for green school advocates in the U.S. The event will feature two days of conference programming and tours, kicking off with a welcome reception at the Science Museum of Minnesota. The conference will also feature a keynote from Zaria Forman, a world-renowned artist known for her pastel depictions of climate change.
The IMPACT conference unites industry leaders, experts and professionals to inspire, connect and advance sustainable building across the Midwest. Industry professionals attending IMPACT have a unique opportunity to enhance their understanding of the K-12 schools sector by also attending GSCE. GSCE offers an opportunity for attendees to learn creative strategies to support healthy, sustainable schools. The co-location of the two conferences will bring together experts from diverse industries within the green building world for a unique opportunity to collaborate and share successes.
Register today! Visit impact.usgbc.org for more information.