ACEEE Utility Scorecard: Trends and Findings
Earlier this month, the American Council for an Energy-Efficient Economy (ACEEE) released their first-ever scorecard of utilities in the United States.  The scorecard reveals which utilities are leading the way in energy efficiency programs, and identifies areas for improvement. 
Slipstream is thrilled that five of our utility clients are among the 20 most energy-efficient utilities in the country, including three in the top 10! Congratulations to: ComEd, Xcel Energy Colorado, Xcel Energy Minnesota, AEP Ohio, and MidAmerican Energy.  We are proud to partner with you as we work to achieve our mission.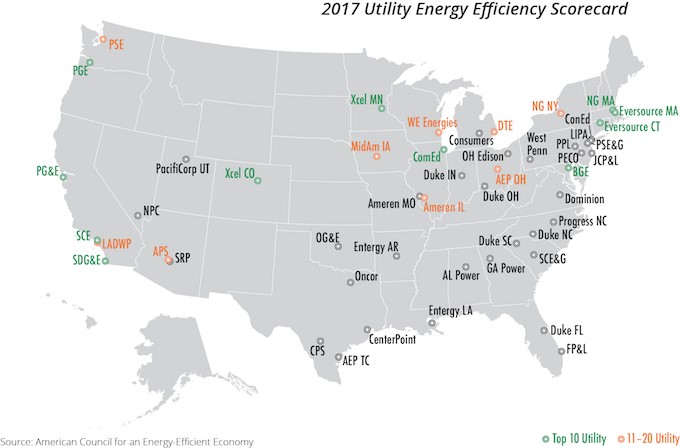 Utilities were ranked on 18 metrics across three categories: quantitative savings and spending performance, program diversity, and efficiency-related items. Overall, the report shows that utilities across the country are committed to offering energy efficiency programs! Other notable findings include: 
A large variance in scores by region. Utilities in the Northeast earned an average of 62 percent of total points, more than twice the average score of utilities in the Southeast.
Two standout programs. The most popular energy efficiency programs were residential HVAC and commercial and industrial custom measures.  
A positive return on investment. Utilities in the top 10 invested an average of six percent of revenue on energy efficiency programs, compared to the national average of 2.7 percent. 
Thank you to ACEEE for this thorough and well-researched report! And, congratulations to all utilities included in the top 20. Your dedication to energy efficiency is positively impacting the environment and the lives of your customers!