Restoring the original American landscape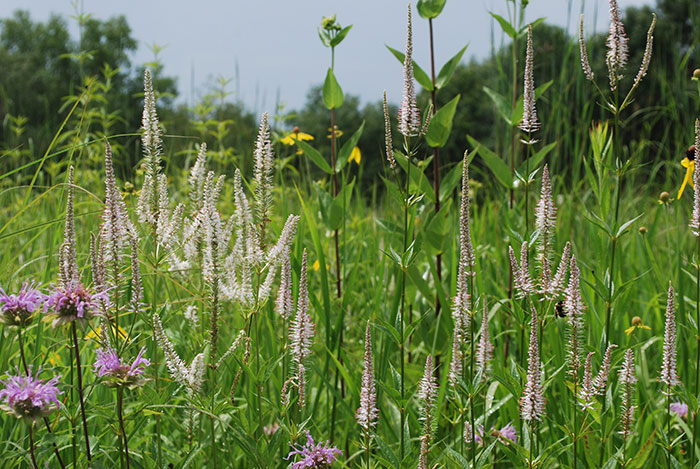 Culver's root and bergamot in bloom in the planted prairie along the Table Bluff segment of the Ice Age National Scenic Trail. Photo by Gary Werner.
Each season of the year paints Wisconsin's prairies with different colors and textures. In spring, lush green grass is accented with spires of white baptisia and whorls of yellow golden Alexander. The height of summer sees the prairie in full bloom—purple coneflower, orange butterfly milkweed, bright blue vervain, yellow cup plant, lavender bergamot—a panoply of colors, spiky flower stalks, waving grasses and broad, leathery leaves.
As summer slides into autumn, the prairie glows with goldenrod, blue gentian and the purple and white fringes of frost-hardy asters and then fades to the tawny brown of sideoats and big and little bluestem. When snow blankets the prairie, the desiccated spikes of rattlesnake master and compass plant watch over the dormant landscape.
"Like the changing prairie landscape, each season of prairie restoration and management has its own rhythm and unique set of tasks."
I spend many of my weekends with a small group of volunteers working on prairie and oak savanna restoration projects in Dane County. And like the changing prairie landscape, each season of prairie restoration and management has its own rhythm and unique set of tasks. Spring is burn season and hectic—fickle weather and a limited pool of qualified volunteers who can be available on short notice heightens the tension as does the knowledge that garlic mustard won't wait until the burning is done.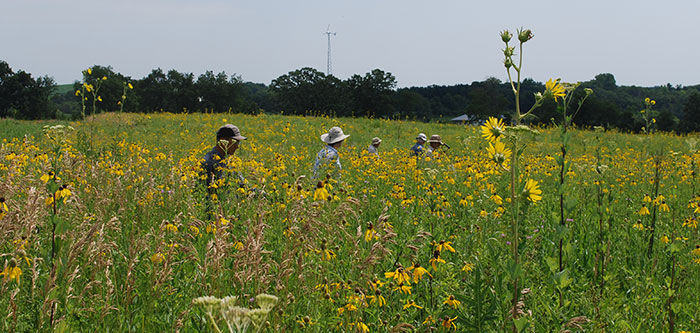 Weeding the Liebetrau Prairie: volunteers search for sweet clover, wild parsnip and curly dock. Photo by Gary Werner.
Eradicating garlic mustard dominates our spring and early summer management activities. We raster the woods and savannas abutting the prairies and beat our way through briar patches and honeysuckle thickets to destroy the plants before they set seeds. During the dog days of summer we turn our attention to weeding the prairies—digging out burdock, curly dock, parsnip, mullein and yellow and white sweet clover.
As the weather cools into fall, it's back to savanna restoration: freeing open-grown oaks from the shrubs that crowd them. We plant new prairie in late fall and if there's a dusting of snow on the ground it's easier to see where you've sown the seeds. Winter is tree-felling season when we take down the big trees that have invaded the savannas or clear the cedar thickets on remnant goat prairies.
It is incredibly satisfying work. I spend the days outdoors doing physical work that makes a tangible difference. In the more than 15 years I've been working on prairies and savannas, we've sown 140 acres of prairie, rescued many remnant goat prairies, restored oak savannas and even made a dent in the garlic mustard population. For me it feels like the best thing I can do to repair some of the damage we've wreaked on the planet. It is also a necessary antidote to the 20 years I've spent in the office with only modest progress to show in reducing our energy use impacts—progress that is visible only in numbers.
LEARN MORE
To learn how these land restoration projects benefit our ecosystem, visit the Prairie Enthusiasts' website.
Also check out this video from the Missouri Prairie Foundation: