Happy National Drive Electric Week!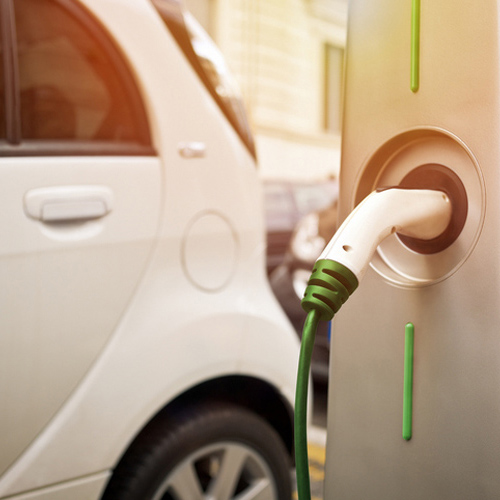 September 8-16 is National Drive Electric Week! National Drive Electric Week is an annual celebration and outreach campaign, with the goal of increasing awareness of the benefits and widespread availability of electric vehicles (EVs). While the concept of EVs has been around for hundreds of years, they've only recently entered the mainstream, thanks to improved technology and lower costs. According to a 2017 AAA study, more than 30 million Americans are likely to buy an EV for their next car.  Have you ever considered going electric, but aren't sure how to get started? Read on for an EV crash course!  
Energy Vehicle Basics
Unlike a conventional vehicle, an electric car or truck uses an electric motor as its primary source of energy.
While EVs come in a wide variety of makes and models, they all fall into one of two categories: battery electric vehicles (BEVs) or plug-in hybrid electric vehicles (PHEVs). BEVs solely on a battery, and generally have a range of 80 to 100 miles before needing to recharge. A BEV can be a great option for a household with more than one car, or drivers who primarily drive locally. Alternatively, PHEVs run on electricity for up to 40 miles, then switch to gasoline when the battery is depleted. The flexibility of PHEVs allows drivers to use electricity as often as possible, while still having the ability to travel longer distances.
Like any electric device, EVs need to be charged regularly. Fortunately, charging an electric car is easy and can be done anywhere there is an outlet or charging station, including your home or workplace. Charging times range from 20 minutes to 8 hours, depending on the strength of the charger, how depleted the battery is, and the vehicle's capacity. The majority of EV drivers do 80 percent of their charging overnight at their homes. It's as simple as plugging in your cell phone! TWEET Roadside charging stations are also becoming more commonplace, allowing for quick and convenient charging on the go.
Why Drive Electric?
First and foremost, driving an EV is energy efficient! According to the U.S. Department of Energy, EVs convert about 60 percent of electrical energy from the grid to power at the wheels. By contrast, a conventional gasoline vehicle only converts about 20 percent of the energy stored in the gasoline to useful work. EVs also produce significantly fewer carbon emissions. Throughout its useful life, an average electric car will produce 54 percent less carbon pollution than an average conventional vehicle.  As the electric grid gets cleaner, that percentage will only grow.
In addition to being good for the environment, EVs offer a number of benefits, including:
Less maintenance than conventional cars. Since electric cars have fewer moving parts compared to an internal combustion engine, they require less maintenance and fewer repairs – saving you time, money, and hassle.
Affordability. Thanks to federal and state rebates and tax credits, the cost of purchasing an EV is lower than ever! For most plug-in vehicles, the federal tax credit is between $3,000 and $7,500. Depending on the type of EV you drive, you'll also be spending less at the gas pump — or even skipping it altogether! A gallon of gas in the US costs about twice as much as the equivalent electricity, which can add up to big savings for you!
A fun driving experience. An electric motor provides full torque from standstill, offering you a smooth, quiet, and powerful ride.
Buying or leasing any new vehicle is a big financial decision, and EVs are no different. However, we hope that when the time comes to shop for your next vehicle, you consider going electric! For even more information, check out this EV buying guide or visit your local dealer. For a firsthand account from a happy EV driver, check out the test drive we took with Slipstream's own Tim Mathison!