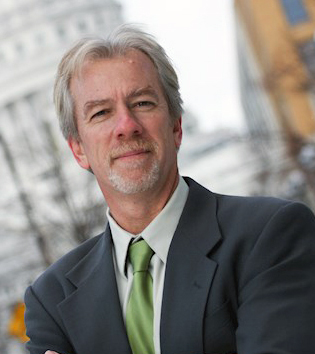 Keith Reopelle
Keith's decades of clean energy policy work and coalition building make him one of Wisconsin's most recognized climate leaders.
Keith works as an advanced program and policy analyst with the Wisconsin Office of Sustainability and Clean Energy (OSCE), with support from the U.S. Climate Alliance. Keith leads the development of a statewide clean energy plan for Wisconsin governor, Tony Evers.
Keith was the first director of Dane County's Office of Energy and Climate Change, where he led the development of Dane County's first Climate Action Plan. This work required coalition building and managing multiple subject matter task forces as well as facilitating the Dane County climate council.
Before serving Dane County, Keith was the senior policy director at Clean Wisconsin for 32 years. As a lobbyist, coalition builder, and campaign leader, Keith shaped clean energy and climate campaigns for Wisconsin and the Great Lakes region.
Keith earned a bachelors degree in wildlife ecology and masters degree in environmental communications from the University of Wisconsin-Madison.